The Interdisciplinary Simulation Center is a fantastic resource for the Medical College of Georgia, according to Dr. A.J. Kleinheksel, one reason why they came to Augusta University.
The center has dedicated faculty and staff, 10 simulation rooms, 30 clinical skills rooms and two simulation bays, which are designed to look like an actual emergency department. It also has dedicated simulation time, which allows individual student and resident participation on a weekly basis.
"It's great to be in a space that has so many different health professions, and particularly after 2020 when we saw a lot of our learners shut out from their bedside clinical experiences," said Kleinheksel, who is the interim assistant dean for the MCG Educational Simulation program. "The simulation programs for the different health professions have really been able to kind of step up and supplement the education of our students and residents, by giving them some of these simulated activities to replace some of what they would normally see in a normal year."
The MCG Educational Simulation program is preparing to participate in Healthcare Simulation Week, which is Sept. 13-17. The national event is sponsored by its professional body, the Society for Simulation in Healthcare. The week is a way to highlight and celebrate the behind-the-scenes work that goes on to put on health care simulation.
"Simulation for health professions education is an effective pedagogy, but it's also pretty resource intensive," said Kleinheksel, who previously worked at an educational technology company that develops virtual patient simulations for health professions education.
"There are a lot of moving pieces, and a lot of it happens outside of the view of our learners. So we wanted to take this week and celebrate with our colleagues across the country to recognize the people who are really putting in the work day in and day out to make these simulations such engaging, fun and effective activities for our medical students and our residents here."
On the society's website, a Google map allows centers around the world check in to show they are participating, as well as a week's work of virtual sessions they can peruse.
At MCG, those in the center will celebrate Sept. 13-17 with gifts, thank you notes, breakfast and a team social meeting after work. On Thursday, it will hold the eSPee Awards, where the standardized patients (SPs) were asked to submit short videos for categories similar to the Academy Awards such as best drama, comedy or musical, and the videos will be judged and awarded.
MCG currently has over 80 standardized patients who help out and do simulations for all the different health sciences on campus.
"They are people who play the role of a patient and a case … they come from all walks of life and a lot of them are retired and some of them have been in health professions themselves in their careers, and they really are just very engaged and dedicated to doing the best job they can possibly do for our students," Kleinheksel said. "They have to portray a wide variety of complaints and diseases, and we want to make sure that we do something fun and engaging for them specifically."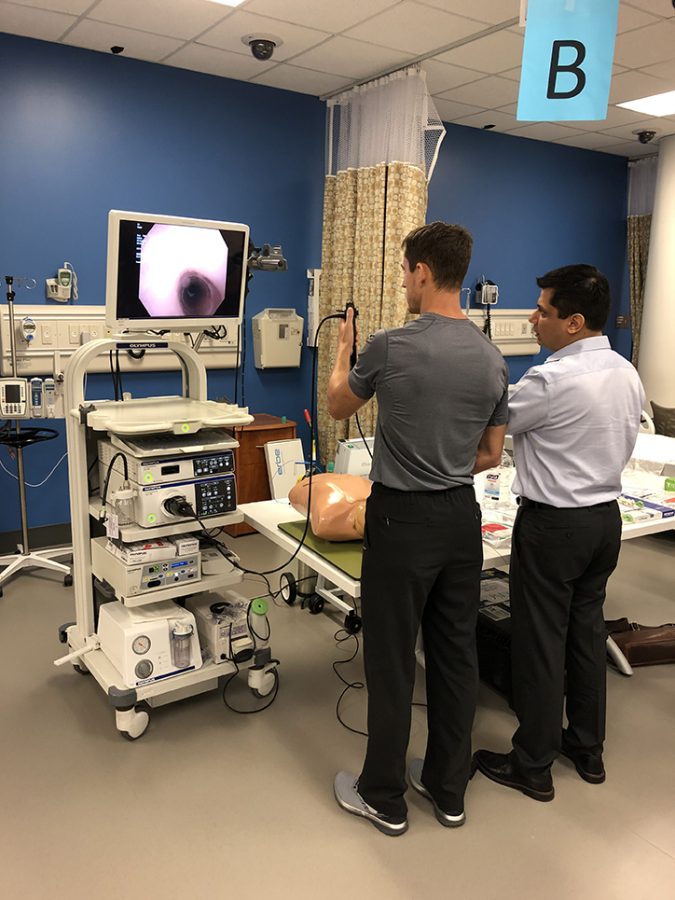 Kleinheksel said the students appreciate the center and said during a simulation on acute myocardial infarction, feedback they received from a focus group drew into stark contrast how impactful simulations can be.
"The feedback … it wasn't necessarily about the skills that they were developing but what really seemed to affect the students was the ability to embody the role of a physician for the first time and really start to understand what it felt like to have the responsibility for the patient care themselves, not just watching as a member of a team, but being in charge of the situation and having a sense of agency and autonomy to make choices for someone's health," Kleinheksel said.
"It seemed to be a pretty transformative experience for these students because they hadn't had the opportunity to feel that sense of ownership and responsibility before, so it really seemed to shift the way they thought about their chosen profession as well as change the perception of themselves, and it helps them see themselves as part of the medical community in a way that they hadn't experienced before."