Michael McGrath has seen a lot of talent come through Augusta University's men's and women's tennis programs, including three NCAA All-Americans, two freshman-of-the-year selections and numerous Peach Belt All-Conference honorees.
But he is most proud of the academic success his players have amassed.
"You can take away the rings and the banners; the graduation rate is what we're about," said McGrath, who is one of the longest-tenured coaches in the athletics department with 25 years of service to the university. "My most disappointing feat would be if we have somebody that does not end up walking across the stage on graduation day once they've exhausted their eligibility."
Originally from Charleston, South Carolina, McGrath started playing tennis at the age of 5. He said he picked up a racket after he got tired of watching his mother and father play all the time.
He attended a Catholic school and continued his progression with the sport. Eventually, Belmont Abbey College recruited him, and McGrath thrived there. He was a four-year letter winner at Belmont Abbey, playing at the No. 1 or 2 singles position, as well as the No. 1 doubles slot.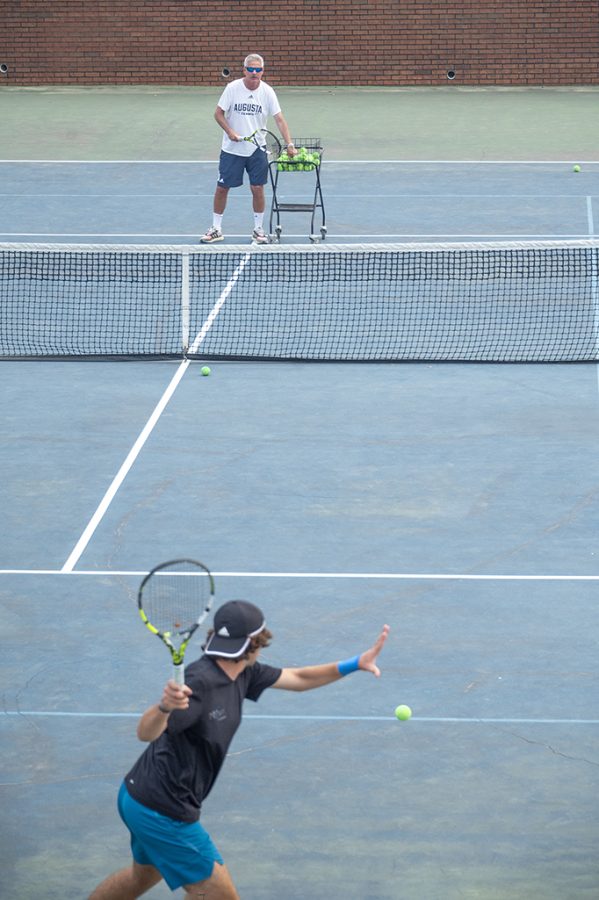 "When I got there, it was a fantastic fit. I was very much into college tennis because I enjoyed the team atmosphere much more than I did in junior tennis," said McGrath, who has more than 500 career wins as a collegiate coach. "College tennis is a team sport in an individual setting. It doesn't matter how you do as an individual; it's all about the team. One of my major pet peeves for my players is when their friend or parent asks them, 'How did you do?' And they say, 'Oh, well I won.' … You might have won the match, but we lost as a team. We do this together."
McGrath said head coach Mike Reidy made him a captain as a freshman but also mentored him as his passion for college tennis grew. The landscape of coaching was beginning to shift when colleges were beginning to hire individual coaches and not professors who could coach. He said he felt fortunate to walk into coaching when he did.
"Michael taught me everything there was to know about college athletics. Then I got here through him — there's a big contingency of Belmont Abbey alums in the area, including Dip Metress and Clint Bryant — so it was kind of just a natural progression," McGrath said.
Having gone through the recruiting process as a student-athlete himself, McGrath is amazed at how that process has changed today, but he is grateful for the international pipeline created over the years, as well as the recommendations of former players.
"When I was recruited, it was more of the coach visiting the high school, attending southern and national events, and now everything is done online," he said. "I've just been very fortunate with recruiting. I have a lot of referral base; I've had a pipeline in Brazil for years, and my old players recommend players that they think would be a good fit here. Again, our graduation rate is fantastic. Every player that's come through here and exhausted their eligibility has graduated from Augusta University."
McGrath was new to coaching when he arrived at AU, and he inherited two teams, not just one. His coaching style adapted to his new surroundings, but he kept the family-oriented vibe from his playing days. He intermingled the men's and women's teams, crafting practices and refining drills that would work for both, such as a high-energy drill where players hit a lot of balls in a short amount of time, an exercise he learned from Rick Macci, U.S. Professional Tennis Association master professional coach.
McGrath said coming to and staying in Augusta was an ideal fit, and he has never considered going anywhere else. The amount of success he's had during his time at AU keeps him busy, but its proximity to Charleston allows him to see his daughter and watch her games.
He also feels honored to have coached his players, saying he's lucky they chose AU and their families trusted him to take care of them on and off the court.
AU had three combined NCAA Tournament appearances before he arrived during the 1999 season. They've had a combined 23 tournament appearances since then, including a Final Four appearance in 2012. McGrath said consistency has been the main secret to the Jaguars' success.
"That and treating everybody fairly," said McGrath, whose teams have one more week of non-conference matches before beginning their Peach Belt Conference schedule.
"We're having fun with it. It's like Mark Twain's quote, 'Find a job you enjoy doing, and you will never have to work a day in your life.' We don't ever talk about winning and losing. We've talked about competing. If you compete and win, great. If you compete and try your hardest and lose, that's OK, too. Just leave it all out there on the court. That's the mentality that we strive to promote every day."