Two students at the Medical College of Georgia at Augusta University are two of only 50 students nationally, and the only two from Georgia, to be selected to participate in the National Institutes of Health's Medical Research Scholars Program.
Fourth-year students James Dickey and Jeunice Owens-Walton are among medical, dental and veterinary students chosen to pause their university studies to live on the intramural campus of NIH in Bethesda, Maryland, and conduct basic, clinical or translational research. The accepted scholars begin their fellowships this month.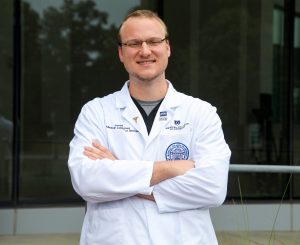 Dickey, a native of Atlanta, earned bachelor's degrees in biology and music from Emory University before coming to MCG in 2017. During the summer between his first and second years of medical school, as part of the Medical Scholars Program, he worked with MCG Chief of Infectious Diseases Dr. Jose Vazquez to develop an in vitro model of polymicrobial biofilms, which are a collective of microorganisms — bacteria, for instance — that can grow on surfaces. Coupled with research experiences during his undergraduate education in antibiotic resistance, his research at MCG has helped solidify his desire to have a research-oriented career.
"I'm excited for this opportunity to get to focus all my time and energy on research and grow that skill set," Dickey says. "In medical school, we spend so much time in the classroom, on clinical rotations and studying that we don't have the time to really dive in and immerse ourselves in any major (research) project. In ways, this opportunity doesn't even feel real. The NIH is the world's hub of medicine and research and I get to go there and work with these people."
He will work in the lab of Dr. Daniel S. Chertow, head of the NIH's Emerging Pathogens Section, whose work is focused on the long-term immune response and lingering effects of COVID-19. Dickey hopes to match with an internal medicine residency and eventually complete a fellowship in infectious diseases after he completes his fourth year at MCG.
Owens-Walton, a native of England who grew up in Albany, Georgia, also came to MCG in 2017 after earning a bachelor's degree in biology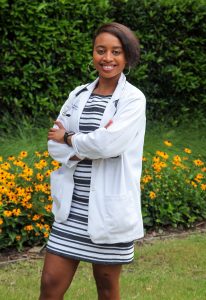 from Georgia State University. During her time in the medical school's summer research program, she worked with MCG vision scientist Dr. Manuela Bartoli, focusing on the relationship between the protein amyloid beta and age-related macular degeneration.
At the NIH, she will switch her research focus to urogenital malignancies, working with Dr. Mark Ball, associate director of the Urologic Oncology Fellowship Program. "This is an experience I'm not sure I'll ever have again, to fully focus my time and energy on research," Owens-Walton says. "My goal is simple: I want to understand what it takes to conduct my own research, from start to finish. I want to know how to do that and do it well."
After returning to MCG in 2021, she hopes to match with a residency program in urology.
The NIH's research scholars program received hundreds of applications during the 2020-21 submission cycle. The scholars will receive mentored training and will conduct research in areas that match their personal interests and research goals. The training experience forms the core of the program and allows these future physician scientists and medical researchers to carry out research across the full spectrum of science in the interest of improving public health. The scholars work with an adviser who provides guidance on creating a career development plan and on selecting an NIH research mentor. Mentors are full-time NIH investigators with basic, clinical or translational research programs.
Over the course of the academic year, scholars participate in courses, journal club seminars, a structured lecture series and clinical teaching rounds. They also present their research to the NIH community and at professional conferences.
The program is supported by the NIH and other partners via contributions to the Foundation for the National Institutes of Health.