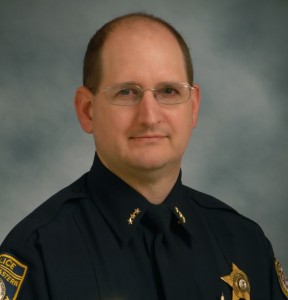 James C. Lyon, Jr., has been named director of public safety at Augusta University, effective March 1.
The appointment follows the conclusion of a national search that began last summer to recruit a new director of public safety who would provide leadership, direction and guidance on campus safety, security and emergency management policy development and resource allocation.
A search committee composed of university faculty, staff, administrators and community members received 55 applicants before narrowing the field to 12 in October. Lyon was one of three applicants to visit campus in November and was recommended for hire a few weeks later.
"The process for selecting the university's next director of public safety was a collaborative effort with the University System of Georgia, our campus and local communities," said Tony Wagner, Executive Vice President for Administration and Finance at Augusta. "We wanted to ensure that the ideal candidate was not just experienced in providing a safe campus environment for our students, faculty, staff, patients and visitors, but also in community policing and working closely with local citizens and law enforcement to proactively identify and solve public safety concerns."
Lyon currently serves as chief of police at Northeastern Illinois University where he oversees the police, security and emergency management operations for four campuses throughout the Chicago area and approximately 15,000 students, faculty and staff.
"I am humbled to be selected the next Director of Public Safety for Augusta University.  I look forward to partnering with the university community, using a community policing philosophy to build trust and mutual respect in a manner that translates into a safer community for students, staff, faculty and visitors."
Lyon has more than 20 years' experience on university campuses including previous appointments as assistant director of public safety and police and as police officer at Davidson College, and later as a specialized patrol corporal at the University of Central Florida. Prior to that, Lyon worked as a law enforcement specialist for the United States Air Force.
He is chair of the International Association of Chiefs of Police, College and University Police Section, and a graduate the 252nd session of the FBI National Academy. He is a member of the International Association of Chiefs of Police Executive Committee, representing 25,000 law enforcement executives worldwide; and of the advisory board for the National Center for Campus Public Safety.
He earned an associate's degree in criminal justice from Community College of the Air Force, a bachelor's degree in legal studies and a master's degree in public administration, both from the University of Central Florida.