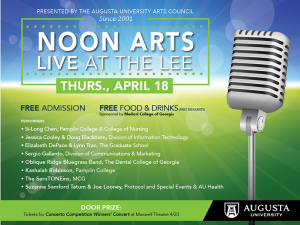 Join the Augusta University Arts Council's final Noon Arts for the spring semester on April 18 at the  Natalie and Lansing B. Lee Jr. Auditorium.
The event is free and open to the public. Lunch is provided by the Medical College of Georgia to the first 100 guests. Door prizes include tickets to Concerto Competition Winner's Concert on April 23, courtesy of the Maxwell Theatre.
Dr. Doug Miller, vice dean for Academic Affairs at MCG, will serve as the Master of Ceremonies.
Performers include:
Si-Long Chen, Pamplin College and College of Nursing
Suzanne Samford Tatum & Joe Looney, Protocol and Special Events & AU Health
Elizabeth DePace & Lynn Tran, The Graduate School
Jessica Cooley & Doug Blackburn, Division of Information Technology
The SeroTONEins, Medical College of Georgia
Kashalah Robinson, Pamplin College
Oblique Ridge Bluegrass Band, The Dental College of Georgia
Sergio Gallardo, Division of Communications and Marketing