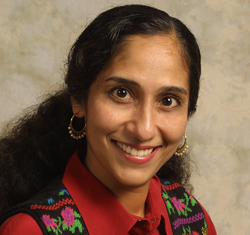 Dr. Vinata B. Lokeshwar, Professor and Co-Director of Urology Research in the Departments of Urology and Cell Biology at the University of Miami-Miller School of Medicine, is the new Chairwoman of the Department of Biochemistry and Molecular Biology at the Medical College of Georgia at Georgia Regents University.
Lokeshwar also is one of two Directors of the Pilot and Collaborative Translational and Clinical Studies component of the Miami Clinical And Translational Science Institute, one of 61 translational centers in the nation funded by the National Institutes of Health's National Center for Advancing Translational Sciences.
The cancer researcher, who studies the metastasis of prostate, bladder, and kidney cancer with the goal of better diagnosis and treatment, assumes her new duties at MCG in September.
"We are very pleased that Dr. Lokeshwar, an accomplished scientist, educator, and leader, will be joining the MCG team," said Dr. Peter F. Buckley, Dean of the state's public medical school; Interim Executive Vice President for Health Affairs, Georgia Regents University; and Interim CEO, Georgia Regents Medical Center & Medical Associates.
"One of her many great strengths is that she is strongly committed to the tenet that great science, great education, really any great accomplishments require a great team and hard work and that the best leaders are ones who nurture and practice both. Her scientific expertise also is a terrific addition to our collaborative efforts to grow cancer research in our state where the cancer incidence exceeds the national rate and to our already strong urology program. Those attributes and many more make her a great fit for our medical school," Buckley said.
The Dean thanked Dr. Shuang Huang for his service as interim Chair and Drs. Clinton Webb and Nita Maihle for co-chairing the national search.
Lokeshwar's research has had continuous external funding for 18 years. She is currently Principal Investigator on three National Institutes of Health grants as well as two additional grants from the Women's Cancer Association of the University of Miami to help develop a urine test for bladder cancer and pursue early diagnosis and new treatment for kidney cancer.
She is a past President of the Society for Basic Urologic Research; an ad hoc member of the Research Advocacy and NIH Relations workgroup of the American Urological Association Office of Research; and recently chaired the Bladder Cancer – Basic Research Session at the American Urological Association Annual Meeting two years in a row.
She is Senior Editor of the textbook, "Bladder Tumors: Molecular Aspects and Clinical Management," Associate Editor of the journal Bladder, Consulting Editor of the journal Urologic Oncology, and a member of the editorial board of World Journal of Urology and Bladder Cancer.
She has mentored more than 30 graduate students, residents, fellows, and junior faculty. Recent educational honors include the 2015 Sylvester Comprehensive Cancer Center Outstanding Mentor of the Year for Trainees. Urology residents at the Miller School of Medicine honored her with the 2011 Urology Teacher of the Year Award, and the American Urological Association honored her as a Female Leader in Urology that same year.
Lokeshwar earned a PhD from St. Louis University in Missouri and completed postdoctoral studies in the Department of Cell Biology and Anatomy at the University of Miami Miller School of Medicine. During her postdoctoral work, she completed American Heart Association and National Cancer Institute fellowships. She joined the university's faculty in 1994.