After a year without live music, the Harry Jacobs Chamber Music Society, part of Augusta University's Department of Music, is looking forward to a new season full of live chamber music with the return of its annual concert series this fall at Maxwell Performing Arts Theatre.
Performers include the world-famous Canadian Brass, the Vola Jacobs Memorial Piano Recital featuring Roberto Plano, and the Grammy Award-winning Parker Quartet.
Check out the full list of performers and dates below. Learn more about memberships and order tickets here.
Canadian Brass — Holiday Concert with Wycliffe Gordon
7:30 p.m. Tuesday, Nov. 30
Kicking off the series and the holiday season will be Canadian Brass, one of the most popular brass ensembles today, performing alongside world-renowned musician Wycliffe Gordon, director of jazz studies at Augusta University.
Masters of concert presentations, Canadian Brass has developed a uniquely engaging stage presence and rapport with audiences. With a discography of over 130 albums and an extensive worldwide touring schedule, Canadian Brass is an important pioneer in bringing brass music to mass audiences everywhere.
Jazz Journalists Association named Gordon "2020 Trombonist of the Year" and Downbeat declared him "Best Trombone" again in 2020 for the sixth time.
Canadian Brass is presented in partnership with the Augusta University Lyceum Series.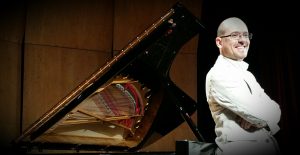 Vola Jacobs Memorial Piano Recital and Roberto Plano, piano
7:30 p.m. Friday, Jan. 28, 2022
Roberto Plano's engaging personality has made him a favorite guest on radio programs such as NPR's "Performance Today" and on TV shows for PBS, France's Mezzo and Japan's NHK. Plano has a career full of accomplishments, including being the first-prize winner at the 2001 Cleveland International Piano Competition, prize winner at the Honens, Dublin, Sendai, Geza Anda and Valencia competitions and finalist at the 2005 Van Cliburn.
Vola O'Connor Jacobs was an integral part of the musical fabric of Augusta for most of her life. A graduate of the Eastman School of Music, she returned to her hometown of Augusta, where she performed often as a soloist and concerto artist and taught many hundreds of piano students, some of whom have become teachers of the next generation of pianists. This concert is the 2021-22 Vola Jacobs Memorial Piano Recital, presented in memory of the significant contribution she made to music in Augusta and throughout the Southeastern United States.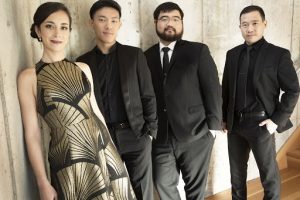 Parker Quartet
7:30 p.m. Tuesday, March 29, 2022
Renowned for its dynamic interpretations and polished, expansive colors, the Grammy Award-winning group Parker Quartet has rapidly distinguished itself as one of the preeminent ensembles of its generation, dedicated purely to the sound and depth of their music.
Those interested in attending are encouraged to purchase a season membership to enjoy all concerts this season. A season membership also includes invitations to Hausmusik concerts and opportunities to meet world-class musicians. Purchase season memberships online.
Two complimentary tickets good for one of the 2021-22 season concerts (excluding the Nov. 30 Canadian Brass concert) will be included for each membership received by Sunday, Aug. 1. Members may use these tickets as gifts and are encouraged to share them with potential Harry Jacobs Chamber Music Society members.
The 2021-22 season marks the fourth year of the music society's partnership with the Katherine Reese Pamplin College of Arts, Humanities, and Social Sciences and the college's Department of Music.
The Harry Jacobs Chamber Music Society formed in 1990 with the purpose of bringing high quality chamber music to Augusta. The group's namesake, Harry Jacobs, played an important role in the foundation of the musical culture in Augusta. He was a professional musician who met and married Vola O'Connor, a pianist from Augusta. After making his home in this city, he founded the Augusta Civic Orchestra (now the Augusta Symphony) and served as its conductor and music director for 37 years.