GROVETOWN, Ga. – The future of health care is heading to Columbia County.
Augusta University leaders gathered Friday at an 82-acre parcel adjacent to Interstate 20 in Grovetown to celebrate the purchase of the property where AU Medical Center will build a 100-bed hospital with a Level II trauma center in Columbia County.
"We are committed to constructing a one-of-a-kind health care campus that the citizens of this rapidly growing community can be proud of," said Shawn P. Vincent Sr., Chief Operating Officer for AU Medical Center and Vice President of Partnerships for Augusta University. "This hospital represents a $150 million investment with Columbia County, and this is just the beginning."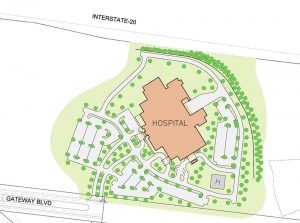 Joined at the Gateway Boulevard property by members of the Columbia County Board of Commissioners and other county leaders, Augusta University President Brooks Keel, PhD, emphasized the exponential growth the county is experiencing, some of which has stemmed from the U.S. Army Cyber Command at Fort Gordon, a collaborator with the university in cyber innovations.
"This area is truly a gateway into Columbia County," Keel said. "We know there's been a huge population explosion, and this is where it's happening. As the state's public academic health center, it's our responsibility and privilege to meet the health care needs of our neighbors in Columbia County and throughout the state. This is a wonderful location, with Interstate 20 access across Georgia and from South Carolina as well." (Hear more from President Keel about Columbia County.)
Columbia County's first hospital will be revolutionary, said AU Medical Center CEO Lee Ann Liska.
"It will be a health care model unlike any other – beautifully designed and intelligently connected, this hospital will be high-touch, high-tech, high quality and highly efficient for our patients and families," she said.
Plans for the two-story, 260,000-square-foot design include an 18-bed emergency department with a level II trauma center; six operating rooms, with pre- and post-anesthesia care units; and 24 dedicated intensive care and 76 medical-surgical rooms with universal beds for the bulk of the inpatient care.
"The benefit of universal rooms is that they will be adaptable for all acuities, so we can take care of each patient based on diagnosis and the best environment of care for that individual at any given time," Liska said. "Rooms will also be same-handed, which means furnishings, equipment and other amenities will be configured uniformly to promote patient safety and greater proficiency for the patient care team."
In addition, smart room technology will be incorporated into the design, Vincent said.
"Building on the strategic partnerships we've developed with Philips, Cerner and Beckman-Coulter, we will construct a very forward-thinking health care delivery concept from the ground up," Vincent said. "AU Medical Center will bring our world-class patient care and educational opportunities as a community teaching hospital to Columbia County, but we'll also be creating an atmosphere that will be a real showpiece in the health care industry and in this community."
Construction is anticipated to start in the summer of 2018 and to be completed in 2020. For more information, visit augustahealth.org/columbiacounty.