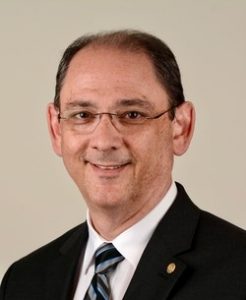 Dr. Kent L. Knoernschild has been named the Thomas P. Hinman Endowed Chair of the Department of Restorative Sciences in The Dental College of Georgia (DCG) at Augusta University, effective Sept. 1.
Knoernschild earned his doctoral degree at Southern Illinois University School of Dental Medicine and a certificate and master's degree in Prosthodontics at the University of Iowa College of Dentistry. After completion of his program, Knoernschild joined the DCG faculty as an assistant professor of Prosthodontics in 1990, rising to the rank of associate professor with tenure prior to his departure in 1997.
He is currently a professor of Restorative Dentistry, the director of the Advanced Education Program in Prosthodontics and co-director of the Implant and Innovations Center at the University of Illinois at Chicago College of Dentistry. He has held the Chicago Dental Society Endowed Professorship since 2007.
Knoernschild is an accomplished clinician, academician, researcher and administrator. He is a diplomate of the American Board of Prosthodontics (ABP) and is the Immediate Past President of the ABP. He currently serves as a councilor for the Academy of Prosthodontics and as chair of the American College of Prosthodontists Parameters of Care Committee. In 2013, he was the first prosthodontist to serve as chair of the American Dental Association Commission on Dental Accreditation during the last of his four years of service as CODA commissioner for Prosthodontics.
As the chair of Restorative Sciences, Knoernschild will provide leadership and guidance for the department's teaching, research and service missions for the DMD pre-doctoral program and three Advanced Dental Education Programs.
"We are excited to welcome Kent back to Augusta and the DCG," says Dr. Carol Lefebvre, dean of The Dental College of Georgia. "He has accomplished much while at UIC and we look forward to adding his expertise in dental education and his leadership experience in academics to the DCG."
Knoernschild and his wife, Karen, have two adult sons, Ben and Kevin, both born in Augusta. He enjoys spending time with his family, golfing and playing the piano.
We are grateful to Dr. Amara Abreu, associate chair in the Department of Restorative Sciences, for serving as Interim Chair effective August 1, 2019.