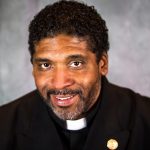 The Rev. Dr. William Barber II will present the keynote address at the 10th Annual Interfaith Celebration on Jan. 5, 2017 at Tabernacle Baptist Church on Laney Walker Blvd. Service begins at 7 p.m.
Barber is co-author of The Third Reconstruction: Moral Mondays, Fusion Politics and the Rise of a New Justice Movement, published in January 2016. Barber also began filing regular dispatches on behalf of the southern movement for racial justice for The Nation– the oldest continuously published weekly magazine in the United States – filling a role Martin Luther King Jr. once held.
In addition to his written works, Barber is the architect of the Forward Together Moral Monday Movement – a coalition of more than 200 progressive organizations in the state of North Carolina. He also serves as president of the North Carolina chapter of the National Association for the Advancement of Colored People (NAACP) and pastor of the Greenleaf Christian Church in Goldsboro. In 2015, he was awarded the Puffin Nation Prize for Creative Citizenship for his efforts in leading the state of North Carolina toward racial and economic equality.
Sponsored by the Augusta University Office of Diversity and Inclusion, the Annual Interfaith Celebration is the most diverse interfaith event in the CSRA. Representatives from a number of faiths, including Baha'is, Sikhs and Unitarian Universalities, attend annually.
Music for the 10th Annual Interfaith Celebration will be provided by the John S. Davidson Fine Arts High School's Davidson Chorale.
This event is free and open to the public.