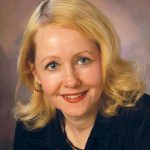 Karin Gillespie, part-time instructor in the Department of English and Foreign Languages, was awarded a 2016 Georgia Author of the Year Award in the Romance Category for her novel, Girl Meets Class at the 52nd annual Georgia Author of the Year Awards ceremony.
Sponsored by the Georgia Writers Association, the Georgia Author of the Year awards recognize authors in fourteen categories. This year, more than 150 authors were nominated in both fiction and nonfiction categories. Previous GAYA recipients include former president Jimmy Carter, novelist Pearl Cleage and Congressman John Lewis.
Published in September of 2015, Girl Meets Class is partially based on Gillespie's experiences as a teacher at an inner-city high school. (Read more here)
Visit Karin Gillespie's author website for more information.