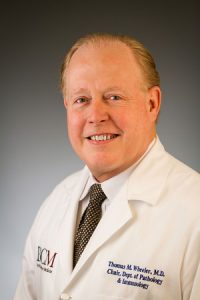 Thomas Wheeler, MD, is board certified in Anatomic Pathology, Clinical Pathology, and Cytopathology and has served over 35 years in academic, consultative, and director/clinical roles with leading University medical centers and healthcare enterprises. He will be giving a presentation on Tuesday June 21, 2016 at noon in the Murphey Building Conference room (BF103).
Dr. Wheeler received his medical degree with high honors from Baylor College of Medicine in Houston, Texas, in 1977. At Baylor College of Medicine and Affiliated Hospitals, he completed his residency in Anatomic and Clinical Pathology functioning as Chief Resident in Pathology. For over 29 years, Dr. Wheeler has served on the faculty at Baylor in the Departments of Pathology and Urology; he was appointed Associate Chairman of Pathology in 1995, Professor of Pathology and Urology in 2001. He presently serves as the W.L. Moody, Jr. Professor of Pathology (appointed in 2013), and Chair of the Department of Pathology & Immunology (appointed in 2007).
Dr. Wheeler is a dedicated and outstanding teacher of residents and medical students serving for many years as a lecturer in the second year Pathology Medical School Course at Baylor College of Medicine and as Attending Pathologist at Ben Taub General Hospital.
Along with his many faculty roles, Dr. Wheeler's expertise in pathology, particularly genitourinary pathology, is reflected in his membership on Editorial Boards for Human
Pathology, Prostate, American Journal of Surgical Pathology, and Archives of Pathology and Laboratory Medicine. He is also Editor-in-Chief of eMedicine's online textbook of Pathology and Laboratory Medicine and writes a monthly Pathology and Laboratory Medicine blog for Medscape and is an active member of their Editorial Board.
Dr. Wheeler is an avid clinical researcher with special interests in studies related to diagnosis and prognosis in prostate cancer- his research has anchored the Pathology
Department's role in Baylor College of Medicine's highly acclaimed prostate cancer program for many years. Since 1992, he has been involved on major research grants totaling over $750,000 including his involvement as the Director of the Pathology Core for Baylor College of Medicine's Prostate SPORE grant.
Dr. Wheeler has participated on numerous advisory boards and committees for both academic and industry related institutions. He is a well-known author and lecturer with over 280 publications and 60 speaker invitations. He has also served as a participant, committee member, and/or officer to a large number of national groups, programs and societies, including the College of American Pathologists, US and Canadian Academy of Pathology, and the Texas Society of Pathologists.