AUGUSTA, Ga. — Jennifer Lopez is joining Children's Miracle Network Hospitals as an official spokesperson to encourage supporters to "Put Your Money Where the Miracles Are." The actress and singer is the latest celebrity to join CMN's efforts to raise funds and awareness for 170 member children's hospitals, including Children's Hospital of Georgia.
Lopez, an actress, singer, American Idol judge and mother of twins, is a longtime supporter of children's hospitals through her Lopez Family Foundation. She will be appearing in print, television, and radio advertisements, including commercials airing during this season's final episodes of Fox's "American Idol."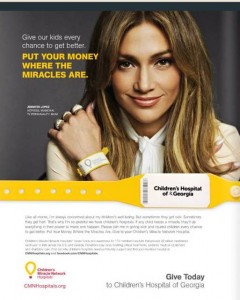 The Put Your Money Where the Miracles Are campaign brings attention to the importance of urgently needed donations to children's hospitals and underscores the miracles that happen every day at CHOG and other CMN hospitals across North America. Here are some quick facts:
• 62 kids enter a CMN Hospital for care every minute
• 97 children will have surgery at CMN Hospitals every hour
• 16,000 children are treated in CMN Hospitals emergency rooms every hour
"At Children's Hospital of Georgia, CMN funds provide new equipment, such as NICU beds, patient monitors, and blanket warmers, plus a multitude of other supplies and resources that help make miracles happen for our patients and families," said Catherine Stewart, CHOG's CMN Hospitals Development Officer. "We are so excited about this new campaign and Jennifer Lopez's help in promoting CMN. There are so many worthy organizations where you can donate your money, but we are asking people to 'Put Your Money Where the Miracles Are.' This is really a no-brainer."
In the Put Your Money Where the Miracles Are advertisements, Lopez wears a yellow Miracle Band. The design resembles the identification bands worn by children while in the hospital and represents the more than 100,000 children treated annually at CHOG and the 10 million kids treated at all CMN Hospitals each year. Anyone can order a free Miracle Band at MyMiracleBand.org. Supporters are encouraged to share their reasons for wearing a Miracle Band on social media with #MiracleBand.
For more information on how you can become a CHOG supporter through CMN Hospitals, please contact Stewart at castewart@gru.edu or 706-721-4004; or Jessica Seigler, CMN Development Coordinator, at jseigler@gru.edu, or 706-446-0232.
The 2015 CMN Hospitals Celebration (telethon) for Children's Hospital of Georgia, which is usually scheduled for the first weekend in June, will broadcast live from the CHOG lobby from noon to 6 p.m. Sunday, Aug. 23.
About CHOG
The 154-bed CHOG is the second-largest children's hospital in the state, providing the highest level of pediatric critical care and neonatal intensive care, as well as a wide range of general and complex health care for children. Visit CHOG at facebook.com/GAChildrens and twitter.com/GAChildrens
About CMN
Children's Miracle Network Hospitals® raises funds and awareness for 170 member hospitals that provide 32 million treatments each year to kids across the U.S. and Canada. Donations stay local to fund critical treatments and healthcare services, pediatric medical equipment and charitable care. Since 1983, Children's Miracle Network Hospitals has raised more than $5 billion, most of it $1 at a time through the charity's Miracle Balloon icon. Its various fundraising partners and programs support the nonprofit's mission to save and improve the lives of as many children as possible. Find out why children's hospitals need community support, identify your member hospital and learn how you can Put Your Money Where the Miracles Are, at CMNHospitals.org and facebook.com/CMNHospitals.