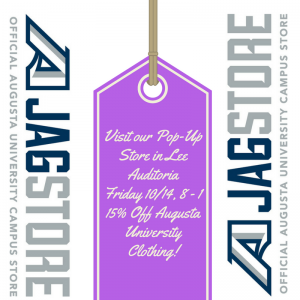 Want to participate in Spirit Friday but haven't had an opportunity to visit the JagStore?
That's OK, because this week, we're coming to you.
Visit one of our pop-up store locations Friday for 15 percent off clothing and apparel. We'll be set up on the Health Sciences Campus in the Lee Auditorium from 8 a.m.- 1 p.m. and later that evening at our Summerville Campus for Augusta U Brew-N-Que from 5:30 to 8:30 p.m.