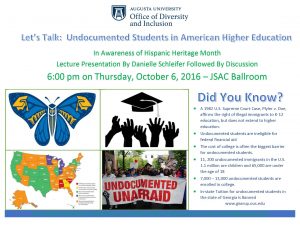 An estimated 65,000 undocumented students graduate from U.S. high schools each year, according to College Board. Although these children are given access a public school education through grade 12, many continue to face a host of financial and legal challenges when attending college.
What can be done to meet the unique needs of this student population? Augusta University hopes to shed light on this matter in the information session "Let's Talk: Undocumented Students in American Higher Education" which features Augusta University's Digital Content Coordinator as the lecturer. This free will be held 6 p.m. Thursday, Oct. 6, in the Jaguar Student Activities Center Ballroom on the Summerville Campus.
This program is hosted7 part of the Office of Diversity and InclusioFor more information, contact Augusta University's Academic Diversity Initiatives Director Karen Mobley at kmobley@augusta.edu.