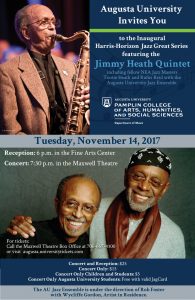 Jazz legend Jimmy Heath will bring his quintet to the Maxwell Theatre on Tuesday, Nov. 14 to kick off the Harris-Horizon Jazz Great Series.
In addition to Heath, fellow NEA Jazz Masters Tootie Heath and Rufus Reid will also perform along with the Augusta University Jazz Ensemble.
The concert will begin at 7:30. A pre-concert reception will be held at the Fine Arts Center starting at 6 p.m.
Thanks to the wonderful donor couple underwriting these performances, this concert is the first of five that will be put on annually in connection with Pamplin College of Arts, Humanities, and Social Sciences and the Department of Music.
For tickets, call Maxwell Theatre Box Office at (706) 667-4100 or visit them online at augusta.universitytickets.com.