More than 900 graduates participated in ceremonies honoring undergraduate and graduate students for Augusta University's spring 2023 commencement, which took place May 11-12 at the Augusta Marriott at the Convention Center.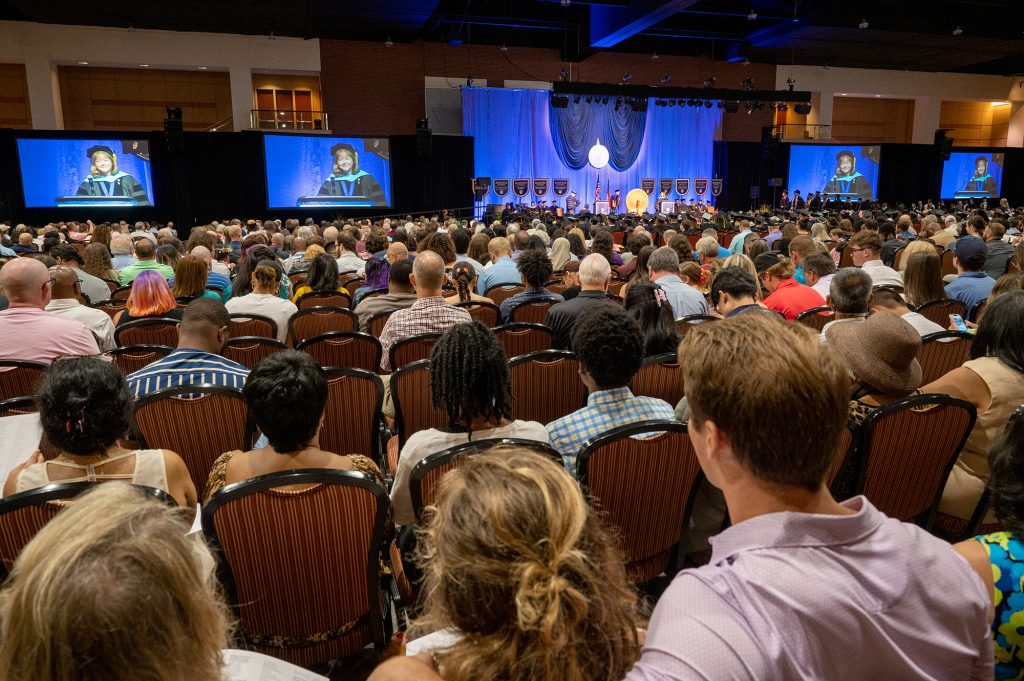 Graduates heard encouraging messages and advice from a number of keynote speakers.
Brittany Kisner, chair of the Kevin and Brittany Kisner Foundation, spoke at Augusta University's Graduate Hooding and Commencement Ceremony on the importance of passion in your career and embracing opportunities.
Doug Burks, founder and CEO of Security Onion Solutions, spoke at the first undergraduate commencement ceremony, shared the importance of good communication, being a lifelong learner and being kind toward others.
Wade Rakes, CEO of Peach State Health Plan, spoke at the second undergraduate commencement ceremony about the value of investing in yourself.
"Life is one giant maze. Mazes are both simple and complex, and it is up to us to discover our path. You will get stuck along the way, but I encourage you to keep pushing forward despite the odds. I want you to remember at the end of your maze, your 'why' awaits you."

Jasmine Coleman, undergraduate commencement ceremony student speaker, College of Education and Human Development
Adding to the festivities was the presentation of the John F. Beard Award during the Graduate Hooding and Commencement Ceremony. President Brooks A. Keel, PhD, announced this year's honoree is Amanda Valentini, a graduate from the Master of Science in Occupational Therapy program in the College of Allied Health Sciences. The $40,000 Beard Award is given annually by William Porter "Billy" Payne and his wife, Martha, to a graduating MCG or other health sciences student at AU who exemplifies caring and compassion in health care.
Three student speakers chosen through a selection process with AU's Student Government Association — Katie Foley, Jasmine Coleman and Isaiah Maddox — brought messages of sharing grace and compassion with others, finding your "why" and the importance of "failing forward" and embracing the unpredictability of life.
Congratulations, Class of 2023!
"No matter your major or your course in life, when you leave AU today, remember this moment as a ceremony where we celebrate our imperfections and failures. Because instead of just failing, we've 'failed forward.' That's what brought us here today."

Isaiah Maddox, undergraduate commencement ceremony student speaker, Pamplin College of Arts, Humanities, and Social Sciences