While Augusta University Police Department's mission is to promote a safe atmosphere on campus, the department also wants students to know its officers are friendly people who are here to help.
In an effort to reach out and connect with more students on campus, Augusta University Police Officer Samantha Desjardins has come up with a fun activity for students that involves searching for beautifully painted Jaguar-themed rocks with an opportunity to win a prize.
"To kick off the new school year, the Augusta University Police Department has hidden six painted rocks around the downtown and Summerville campuses," she said. "If you find one of these painted rocks, students can bring it to our office located at 524 15th Street to swap it out for a prize."
The rocks, which Desjardins painted herself, are nicknamed #JagGems and they feature a variety of Augusta University's logos and mascots.
"There are six of them so far and I painted them all. Some were more challenging than others," Desjardins said, adding that Augusta University's shield was probably the most difficult because the rock she chose wasn't as smooth as the others. "That rock did not want to be painted. But I got them all done and, if anybody finds them, it says on the back that they should take the rocks to our office at 524 15th St., on the first floor of the Annex II building on the Health Sciences Campus. The door has our logo above it so that it's easier to spot."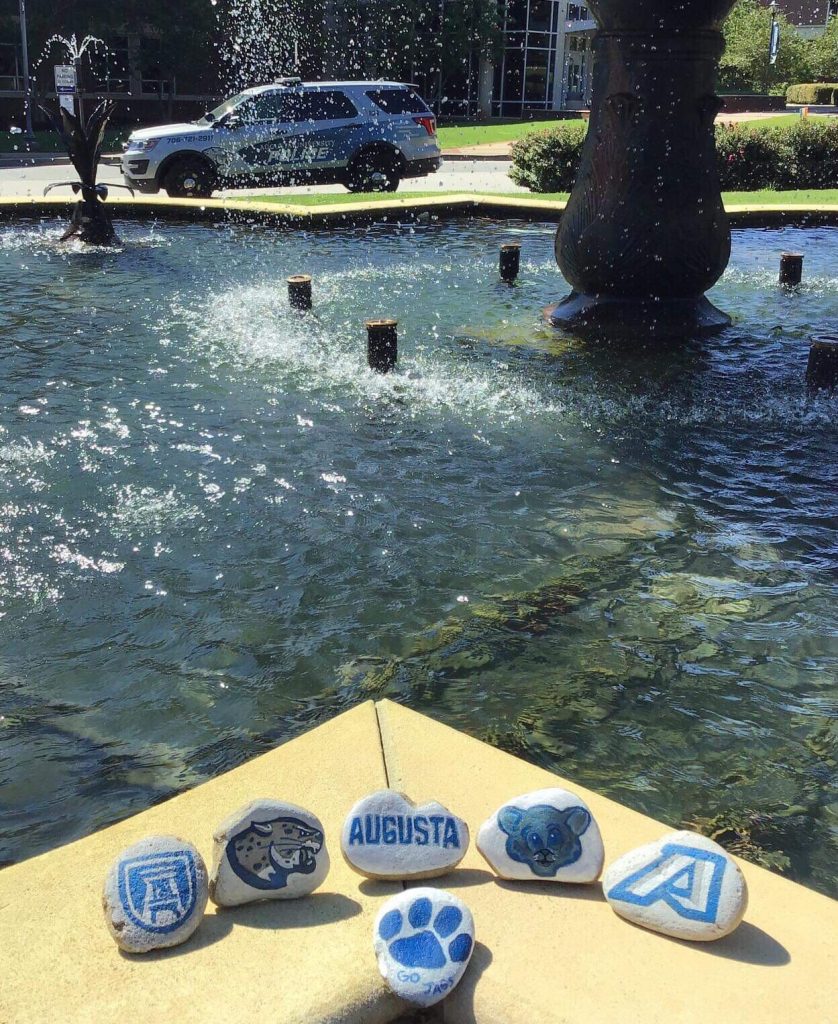 If students find and return the rocks, they will win a "swag bag" full of fun items such as an Augusta University water bottle, a 2020-21 calendar with inspirational quotes, an AU Police Department cup, an emoji stress ball, an AU decal and some school supplies including pens, pencils, bookmarks, a highlighter and notebooks.
"We've come up with a list of areas that would be good places to hide the rocks where they won't be readily seen, but at the same time, where they are not too extremely hard to find," she said, explaining that she doesn't want students digging through the university's flower beds to find the rocks. "And we are going to put out daily hints about where some of the rocks might be."
If students find the rocks, they will be asked to follow the Augusta University Police Department on social media and take a picture of themselves with the rock.
And if a student happens to find a painted rock and wants to keep it, Desjardins said that's fine, too.
"If somebody says, 'Hey, I like this rock. I don't want the prize,' they can keep the rock if they want to," Desjardins said. "I was painting two of them a day, so it's not really about keeping the rock. I can paint another one. That's nothing."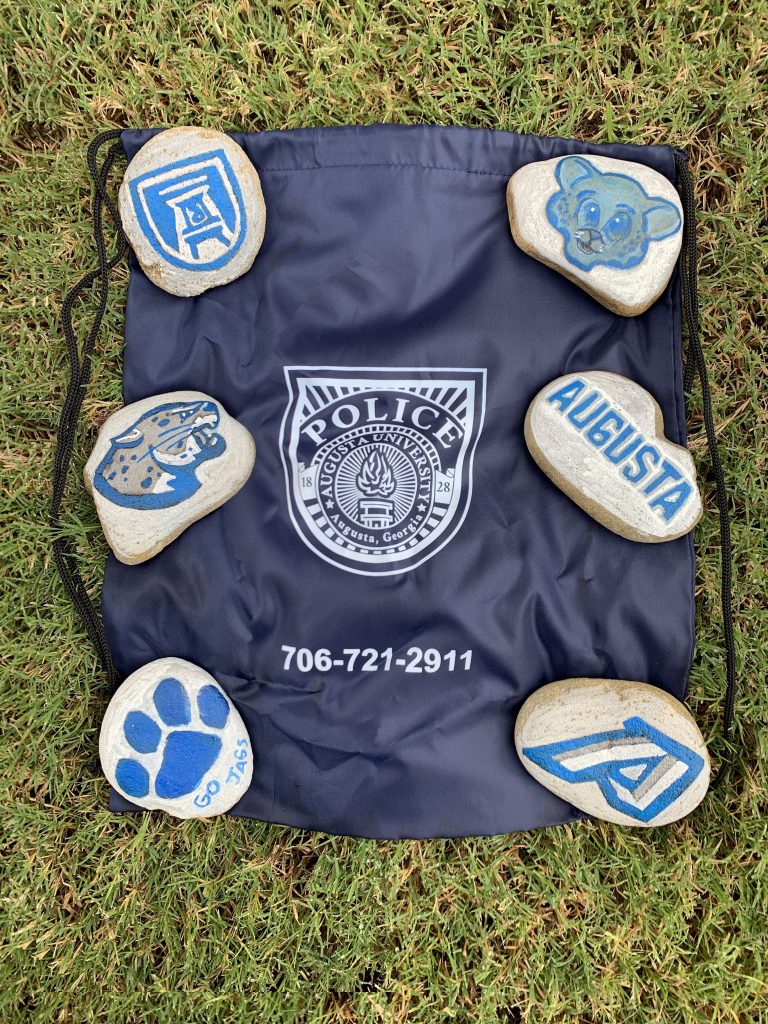 Desjardins said she just wanted to create a fun activity to engage the campus.
"Even when I'm out in the public, people will ask, 'Where is your department?' They don't really know where our department is located on campus," she said. "When I tell them, 'It's where you get your parking decal,' then things may click. But we want people to know where our department is, so if they need us, they can find us."
Along with school supplies inside the "swag bags," the police department has also included several pamphlets and safety information for students.
"We would just like the students to connect with us a little bit more," Desjardins said. "The officers are not just riding around answering calls and trying to find bad stuff going on. We are here for them."
In fact, many of the officers have a lot in common with the students they are protecting on campus.
"A lot of us are going to school, too," said Desjardins, who is finishing her bachelor's degree in criminal justice at Augusta University. "Since many of us are students ourselves, we thought this would be a great way to connect with them."