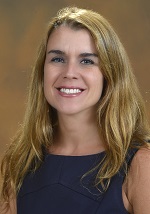 Dr. Giada Biasetti, associate professor of Spanish in the Department of English and World Languages in the Pamplin College of Arts, Humanities and Social Sciences, works every day to advance the culture of Hispanic and Latino communities.
She has been with Augusta University for eight years and is the director of the Salamanca Study Abroad Program. In 2018, she won the Professor of the Year Award for the Georgia chapter of the American Association of Teachers of Spanish and Portuguese, and in 2020, she received Pamplin's Faculty Award for Excellence in Teaching.
On her family
"My parents are Italian, but I was born in Lima, Peru, so my initial contact with culture and language was Italian and Spanish at the same time," she said. "And then eventually I was put in an American school, so I started learning English as well."
Biasetti lived in Peru for nine years, then Caracas, Venezuela, for six years, so her formative years were spent in Latin America. She's always had a passion for Spanish language, culture and literature, and is grateful to share that passion with American students.
"In the U.S., the Spanish language is very important; it's growing. Spanish is the most-spoken language in the country, other than English," she said.
"I always have to fight for people to really appreciate that, but I love to transmit that passion and try to convince some students that they should continue studying Spanish, and not just do a semester or two to get the credit."
Biasetti is grateful that her diverse upbringing in Peru, Venezuela, Italy and the U.S. made her a cultural "hybrid," as she calls it. "It's made me what I am today," she said.
She currently resides in Florida, where she's surrounded by Hispanic and Latino culture.
"Sometimes I feel like I'm in Venezuela when I'm in Florida, especially Miami, because of the Spanish-speaking, the food and the environment," she said.
On her students
Biasetti was named director of the Salamanca Study Abroad Program in 2019, but due to the COVID-19 pandemic, she has yet to bring students to Spain.
The program was canceled in 2020 and 2021, but is planning to resume in late June 2022.
In addition to the study abroad program, one of Biasetti's greatest academic interests is translation and interpretation education. In her translation courses, she regularly assigns projects that encourage students to immerse themselves in multiple languages.
"In my translation class, we recently did a translation of something that was originally written in Italian, then was translated into English, and then my students translated it into Spanish. I try to use as many languages as possible because I feel the more you're exposed to them, and different cultures, the better," she said.
Her translation and composition classes regularly support the Latino community in Augusta with their projects. Many publications released by Biasetti's students are made available to the community via Augusta University's libraries or other public libraries in Evans and Augusta. Biasetti also drops off free copies of these projects to local public schools.
Recent student collaborations include Cow Brains and El Misterio de Santa Caterina. Through the France-based nonprofit Articoli Liberi, sales from these books support language and literacy education across the world.
"Whenever they sell one of those books on Amazon, the money goes toward making more copies so they can distribute the books for free," she said. "They also started distributing in Costa Rica to nonprofit organizations. So my students' work is being distributed for free in many parts of the world — not only here, but in Latin America and Europe as well."
Biasetti herself also provides translation services to the community. She has offered translation services for SafeHomes, a support organization for victims of domestic violence, and has translated marketing materials for Augusta University. Because of her passion for translation, she plans to advocate for a translation track within the Department of English and World Languages.
Biasetti encourages her students to connect with the Latino community in Augusta, including the Asociación Cultural Hispanoamericana (ACHA), which hosts the annual Festival Hispano, and Asociacion Latina De Servicios Del CSRA (ALAS), which sponsors Clínica Latina on the campus of the Medical College of Georgia.
On Hispanic Heritage Month
Biasetti believes Hispanic Heritage Month is a powerful reminder that Hispanic and Latin Americans are valid as they are, and don't need to assimilate into American culture to be accepted.
"I'm very glad and proud that Hispanic Heritage Month exists. I think it shows how important the culture is for this country," she said.
"Sometimes another language or culture is seen as threatening, but when the Latino community contributes so much to your own culture, to businesses, to schools, to everything — you really understand the value. To me, the culture of Latin America is beautiful. The variety of food, dances and music: It's all part of who I am as a person. It makes me very happy that there's a whole month to celebrate it — although it should be celebrated always."