A student's freshman year in college is filled with excitement, new adventures and a whole lot of studying.
But it can also bring some challenges.
During this week's Freshman Convocation on Aug. 13 at Christenberry Fieldhouse, Augusta University President Brooks A. Keel, PhD, told members of the Class of 2023 to embrace their college experience and enjoy this new opportunity. But he also told the freshman class not to be afraid to ask for help.
"Your success is our No. 1 priority," Keel said, surrounded by the deans and professors at Augusta University. "What you will find here is a faculty who cares deeply about your success. They won't hold your hand. They will challenge you. They will push you. But they will always be ready to assist you."
To have a successful freshman year, Keel suggested the students be engaged and involved in the university, both in and out of the classroom.
"First, go to class," Keel said, chuckling. "It is amazing how many people think that's not necessary. Go to class. Get to know your professors. They want to help you. If you have issues, seek help."
Keel also suggested students explore some of the many organizations and clubs associated with Augusta University.
"There are so many things you can do outside of the classroom," Keel said. "I encourage you to enjoy this university experience."
Advice from someone who's been there
Mili Patel, the sophomore class speaker for convocation, welcomed the freshman class and offered students a few important lessons that she learned during her first year in college.
"You are now a part of our family. And your first year here is going to be very important," Patel said. "I learned so many things my first year of college. In fact, I have so much advice, I could teach a semester-long class about navigating your freshman year."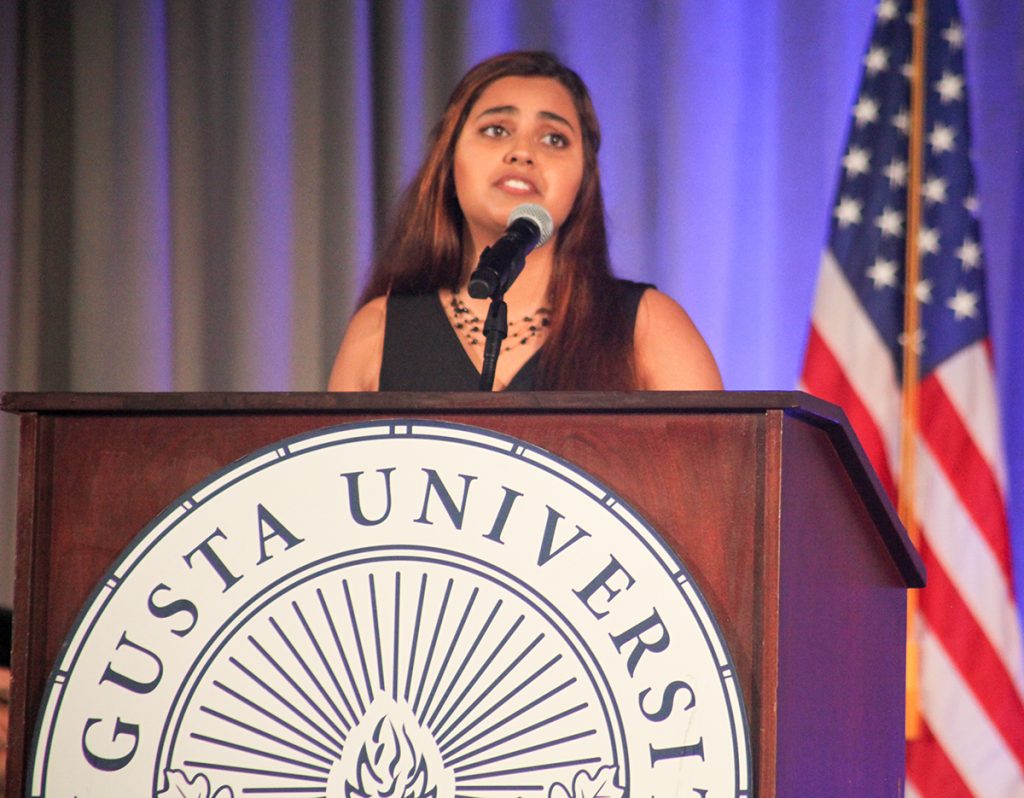 But, considering she was given 10 minutes to speak to the students, Patel said she narrowed her advice down to a few important lessons to jumpstart their college experience.
"Lesson one, college is not a competition," Patel said, adding that every student attending Augusta University must grow and work at their own pace. "College is not a race. Some of us may graduate in four years, while others in six or three years."
She said it is important to look for support from other students in class.
"Make friends in your classes because they are going to be excellent study buddies," she said. "And if you ever have to miss class, you will have someone there to take notes for you."
Patel, who is majoring in cell and molecular biology, also said many students in the audience may have to change their study habits if they are like her and never had to study in high school.
That all changed in college, she said.
"I had to sit down and study for my classes, and I had to dedicate time to study," she said. "And I had to learn how to study. The way I studied in high school was not effective."
A new roommate doesn't always equal best friend
Patel was also forced to learn a difficult lesson after moving away from home.
"Your roommate will not be your best friend," Patel said, as the crowd of freshman began to laugh and look around the room. "This may not apply to everyone. Some of you may have wonderful roommates and be best friends for life. I was not so lucky. It's a huge stereotype that your roommate will be your best friend."
Roommate problems during your freshman year are extremely common, Patel said.
But there are basic steps that all students should following when living with a new roommate, she said.
"Be mindful and polite to your roommate," she said, adding that it is important to respect one another's space and, if there is a problem, either talk to your roommate or consult with a resident assistant. "Because living with someone is not easy."
And while it is important to get involved in activities associated with the university, Patel suggested that students should not overcommit to too many clubs.
When she was a freshman, Patel said she initially signed up for every club that sounded interesting.
"Then, I realized it was impossible to do everything," she said. "I couldn't go to class, study for my classes and go to these club meetings and their events."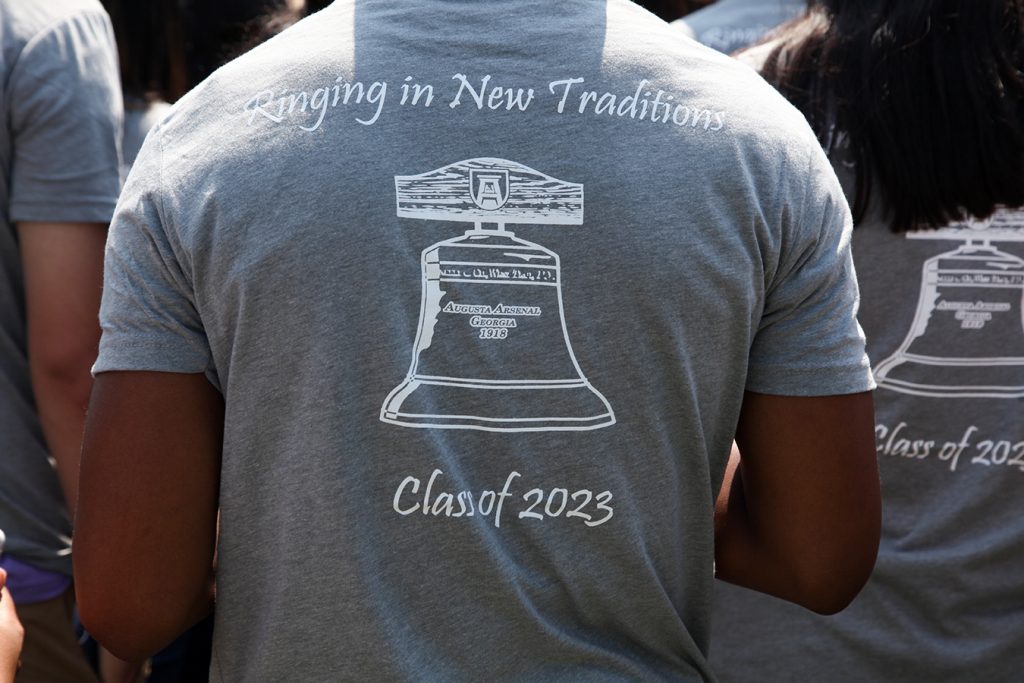 There are only so many hours in a day, she said.
"I got super overwhelmed, so I removed myself from the situation entirely. And I didn't join any clubs my first semester," Patel said. "This was a terrible idea."
There needs to be a balance between activities and education, she said.
Patel recommended that freshman students join a club that involves their major, one that expresses their hobbies and one where they can be a part of something bigger than themselves, like the Student Government Association or a sorority or fraternity.
"But always remember that education comes first," she said, "because you are all here to get a degree."
'Take care of yourself'
Patel's final lesson was an extremely important one.
"Last, but certainly not least — in fact, I think it's the most important — don't forget about yourself," Patel said, acknowledging she had a stressful freshman year that brought up some mental health issues she dealt with before coming to Augusta University. "Halfway through the semester, I was at an all-time low with my mental health."
Patel decided she needed to ask for help.
"I realized that you can't ignore that," she said. "It's always OK to ask for help. There are so many resources that Augusta University offers like Student Counseling and Psychological Services, as well as your professors, your resident assistant or your orientation leaders. We are all here to help you be the best you that you can possibly be."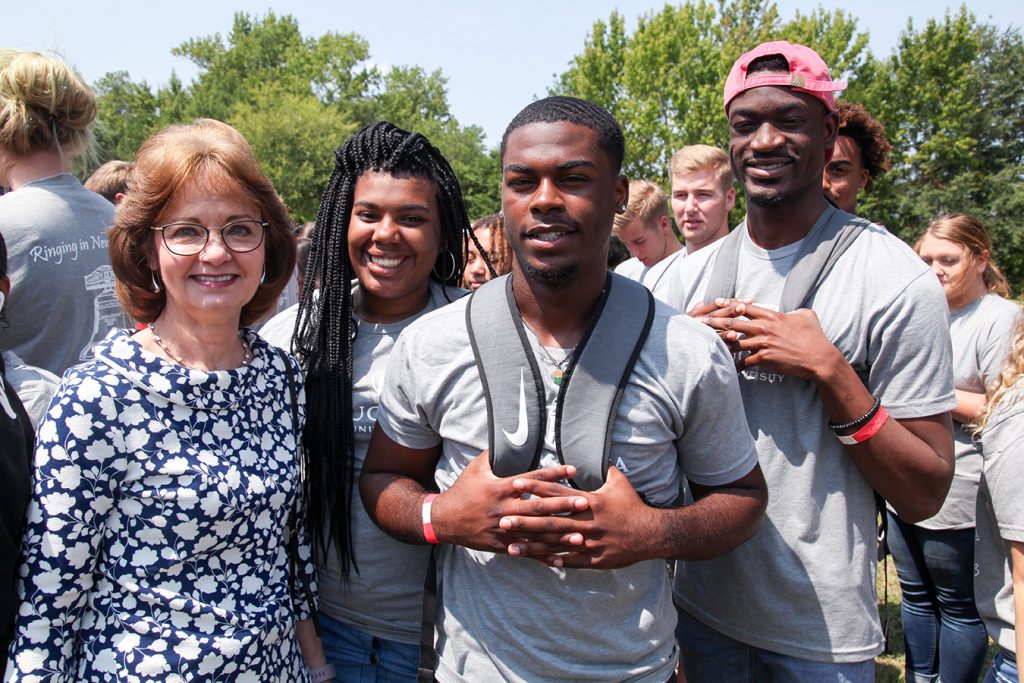 Taking care of your mental health should be the top priority for every student, she said.
"Yes, school is important. Yes, you are all here to get a higher education degree," Patel said. "But you can't forget to take care of yourself."
Dr. Gretchen Caughman, executive vice president for academic affairs and provost, commended Patel on her wise advice to the freshman class and echoed her sentiments.
"Take care of yourself," Caughman reiterated. "We are here to do that as well, but it begins with you. So never overlook that."