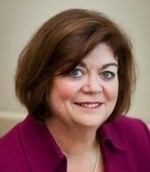 Virginia (Ginger) Hawkins has been named the new director of Clinical Quality Excellence for Augusta University Health System, effective Aug. 1.
A nursing executive with more than 30 years of experience in health care, Hawkins is not a new face at AU Health. She has worked as a critical care nurse educator and a manager of Critical Care and Cardiovascular Services at Augusta University Medical Center in the past.
For the past six and a half years, Hawkins has served as chief nursing officer at Aiken Regional Medical Center, where she implemented quality initiatives to achieve marked reductions in health care-associated infections. Under her leadership, Aiken Regional posted significant decreases in surgical site infections, catheter-associated urinary tract infections and various other patient safety indicators in the composite PSI-90 measure.
Hawkins earned her bachelor of science in nursing from the University of South Alabama, Mobile, a master of science in nursing from the University of Louisville, and a doctorate of nursing practice from the University of South Carolina.