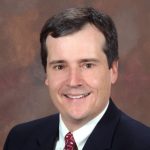 Innovation is key to helping the medically underserved.
That, according to Bill Hamilton, assistant professor of physiological and technological nursing, is one of his main focuses as the new assistant dean for administration of the College of Nursing at Augusta University.
But while crucial, innovation is only one piece of a much larger puzzle. Another important component, Hamilton said, is education. Especially the education of nurses.
"I think the future of health care requires radical change," he said. "And I really believe the College of Nursing has the power to bring about some of that change through the education and training of graduate and undergraduate nurses because … they're leading the charge of the evolution of health care delivery in the United States.
As co-founder of the health care technology company REACH Health Inc., Hamilton knows well the impact innovation and training can have on underserved populations. Working with a team of physicians, nurses and researchers, Hamilton helped to develop a web-based telestroke tool, REACH, to provide eight rural community hospitals with 24-hour acute stroke consults.
While creating a resource like REACH was a big step in the right direction, Hamilton said, it was just that: a single step. Treating and truly caring for patients goes well beyond what a handful of brief consults can accomplish.
"Working with the telestroke program … I saw firsthand how a telestroke system can improve clinical quality outcomes in rural areas, but that was just the tip of the iceberg," Hamilton said. "If you have a stroke, you can go to a hospital with a telestroke system, but who is taking care of you after that?"
The answer more often than not? Advanced practice nurses.
"I witnessed firsthand the power of nursing in leading systems of care in rural hospitals, especially at the other end of the telemedicine consult, in the room with the patient," Hamilton continued. "This can and will extend to the aftercare of the traditionally geographically penalized patients in rural areas."
Extending that care is a challenge, especially in a time when trained, qualified nurses are needed more than ever, but it's one he believes the College of Nursing can – and must – overcome.
"With the nursing shortage, current and impending, it is incumbent on the college to matriculate students at all levels, undergrad and graduate," Hamilton said. "I believe there's a real opportunity for advanced practice nursing to lead healthcare in rural and medical underserved areas, and I know we'll see improved quality and outcomes by injecting them in those areas."
It's also a challenge he believes Augusta's nursing students – and the university itself – are more than capable of rising to.
"I taught a Doctor of Nursing Practice course and was very impressed," Hamilton said. "They challenged me, and the depth and breadth of the students blew me away. I'm excited, because I think that Augusta University is on the cutting edge of medicine, education and research right now. Really, the sky's the limit for us."
Dr. Lucy Marion, dean of the College of Nursing, said Hamilton's appointment is an important move for the college.
"As we need to stretch our dollars to serve more students and faculty research, we need leaders like Bill to develop more effective structure and processes as well as entrepreneurial strategies to this end," Marion said. "His interest in teaching and popularity as a teacher–icing on the cake!"