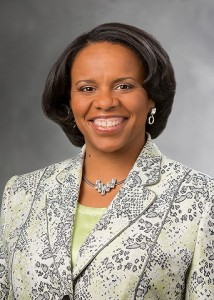 AUGUSTA, Ga. – The Georgia Regents University Office of Leadership Development invites you to explore the practice of leadership with Elizabeth "Liz" Thompson, one of the nation's leading nonprofit executives, at the inaugural session of Leading Lives: GRU Conversations in Leadership Series. This free, public symposium will be held at 3:30 p.m. Oct. 20 in the Maxwell Theatre on the Summerville Campus.
For more than 20 years, Thompson has built a career with extensive experience in nonprofit organizations and has been deeply engaged in youth development and education. In 1993, she was named executive director of City Year Chicago, the local chapter of the national service organization that served as a template for the AmeriCorps Program. She then led Family Star in Denver, Colo., one of the nation's only Early Head Start Montessori programs.
Prior to her work with nonprofits, Thompson had a 10-year career with Ameritech Corporation, which included positions as special assistant to the chief executive officer of Ameritech Illinois and director of a three-state region for Field Operations.
Currently, Thompson is president of the Cleveland Avenue Foundation for Education, and she was recently appointed governing board chair of the University of Chicago Charter School. She is a member of the University Of Chicago Board Of Trustees, a director of The Museum of Science and Industry, and co-chair of Purdue University's Minority Engineering Program Advisory Panel.
She lives near Chicago with her husband, Donald Thompson, former CEO of the McDonald's Corporation – the world's largest fast food chain – and their two children. She holds a Bachelor of Science degree in electrical engineering from Purdue.