AUGUSTA, Ga. – In recognition of National Nurses Week, Georgia Regents University and Health System have more than a dozen events planned to highlight and thank nurses for their contributions to quality patient care. National Nurses Week begins each year on May 6 and ends on May 12, the birthday of Florence Nightingale, the founder of modern nursing.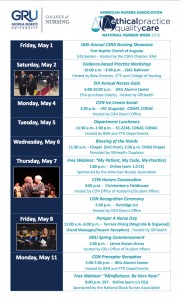 GRU's College of Nursing events include an ice cream social, workshop,  departmental luncheons, and two educational webinars. In addition, the CON Honors Convocation is scheduled for 3 p.m. Thursday, May 7, at Christenberry Fieldhouse, and commencement is 2 p.m. Friday, May 8, at James Brown Arena.
GRHealth events include dessert receptions, Doughnut Day, a white-out, GRU Blue Day, and multiple unit-specific events.
Shared events during the week are the annual Blessing of the Hands, Pamper a Nurse Day, and a preceptor reception. On Wednesday, May 6, hospital chaplains will walk from unit to unit to share blessings, anoint the hands, and pray with nurses and other staff members beginning at 7 a.m. and ending with a 2:30 p.m. service in the Children's Hospital of Georgia Chapel. On Friday, nurses will be treated to hand massages in the Dogwood and Magnolia Rooms of the Georgia Regents Medical Center cafeteria from 11 a.m. to 6 p.m.; and on Monday, May 11, nurses will wear traditional white for a Nurse Preceptor Reception from 5:30 to 7:30 p.m. at the GRU Alumni Center.
This year's National Nurses Week theme is "Ethical Practice. Quality Care." It underscores the importance of ethics in nursing and acknowledges the strong commitment, compassion, and care nurses display in their practice and profession. The theme is an important part of the American Nurses Association's Year of Ethics outreach to promote and advocate for the rights, health, and safety of nurses and patients.
Members of the media should contact Denise Parrish at 706-831-3148 or mparrish@gru.edu; or Kelly Jasper at 706-513-0719 or kjasper@gru.edu; to arrange the best opportunities for media coverage during Nurses Week.