AUGUSTA, Ga. – An evening with an Apollo 13 duo is one of several events that will make Georgia Regents University's 2015 Alumni Weekend on April 23-26 an out-of-this-world experience. In addition, campus tours, college banquets and class reunions comprise what's expected to be the university's largest alumni weekend ever.
This year's theme is All roads lead to home, but for NASA legends James Lovell and Gene Kranz, it was a bumpy ride.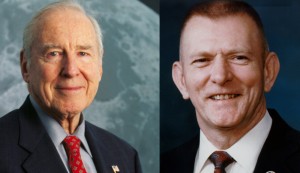 Lovell and Kranz will share the roles each played 45 years ago in getting Apollo 13 back home – while the whole world watched – after an oxygen tank crippled the spacecraft. Their presentation will be at 5 p.m. Saturday, April 25, in the Maxwell Theatre on the Summerville Campus.
Alumni Weekend features activities for alumni of each of GRU's nine colleges – the College of Allied Health Sciences, Pamplin College of Arts, Humanities and Social Sciences, Hull College of Business, College of Dental Medicine, College of Education, College of Graduate Studies, College of Nursing, College of Science and Mathematics, and the Medical College of Georgia.
For a full schedule of events or to register, call the GRU Office of Alumni Affairs at 706-737-1759 or visit  grualumni.com/alumniweekend
###
Georgia Regents University is one of four public comprehensive research universities in the state with nearly 10,000 students enrolled in its nine colleges and schools, which include the Medical College of Georgia – the nation's 13th-oldest medical school – the nationally-ranked Hull College of Business and Georgia's only College of Dental Medicine. The clinical enterprise associated with the university includes the 478-bed Georgia Regents Medical Center and the 154-bed Children's Hospital of Georgia. GRU is a unit of the University System of Georgia and an equal opportunity institution.  http://www.gru.edu