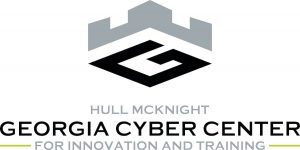 As construction continues on the first phase of the Hull McKnight Georgia Cyber Center for Innovation and Training, state officials and private sector representatives held a ceremonial groundbreaking on Jan. 3 for the facility's $35 million expansion project.  The Center's logo and new name – the Hull McKnight Georgia Cyber Center for Innovation and Training—were also revealed during the program.
The 165,000-square-foot facility will serve as an incubator hub for technology startups and offer training space for the state's cybersecurity initiatives and workforce development programs.
"This additional investment further solidifies Georgia's position at the forefront of efforts to enhance cybersecurity in the public and private arenas with a resource unlike any other in the country," said Governor Nathan Deal. "This facility will encourage world-class collaboration between industry leaders, startup companies, academic institutions and government in the field of cybersecurity, and provide space for private sector entities to leverage the center's strategic resources."
Governor Deal first announced plans for phase one of construction of the Cyber Center in January 2017, which will house a variety of cyber-related companies and provide cyber research and educational opportunities for several state and local entities, including Augusta University's Cyber Institute and recently launched School of Computer and Cyber Sciences. The first building is expected to be open by July 2018 and construction on the second facility is set to be complete by the end of 2018.
"We're appreciative to Gov. Nathan Deal and for the strong partnerships as these initiatives will continue positioning our region as a leader in cybersecurity and research," said Augusta University President Brooks A. Keel, PhD. "It fulfills our commitment to our students, our community and our nation by positioning us to better prepare our graduates for the cyber workforce and provide our community and country with skilled cyber workers."
Partners in the Georgia Cyber Center include Augusta University, Augusta Technical College, the U.S. Army Cyber Center of Excellence at Fort Gordon, the Georgia National Guard, the Georgia Bureau of Investigation, the City of Augusta, the University System of Georgia, the Technical College System of Georgia, local school systems and private corporations.
MEDIA DOWNLOADS: Download new logos, renderings and more at go.augusta.edu/cyberdownloads with the password "media."