For some students, choosing a major comes easily. For Augusta University alumna Samantha Atkinson, her journey had some deviation.
While she began in a different field, she later realized her passion was in the College of Education and Human Development's kinesiology program.
Though she didn't always aspire to go to college, Atkinson's parents always wanted her to get a degree. She'd launched her own freelance art business, The Art Studio Collective, so she sought a degree program to support that endeavor.
She began her collegiate journey at Georgia Military College pursuing a business degree, but her heart wasn't in it. She transferred to AU as an art major but said she was still unfulfilled. As she settled into her new courses, she began to feel like she wasn't being challenged since she was already experienced in art through her business.
Her backup plan came to her immediately. She had been training at a local martial arts school and gained a passion for the activity and how to train her body both inside and out. It became clear what her new plan would be: kinesiology.
"I was not only learning how to defend myself, but also learning how to treat my body well and prioritize functionality over a number on a scale. When I considered what I would do if I couldn't continue art school, my answer was to get a kinesiology degree."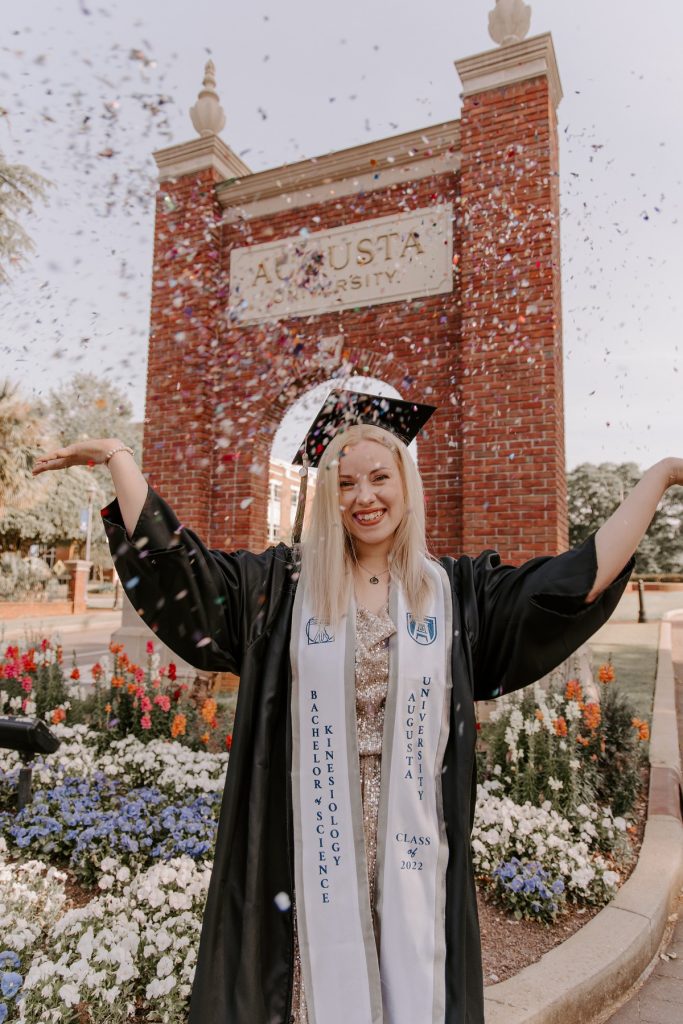 In 2020, while pursuing her degree in kinesiology, she became a tutor at the Academic Success Center.
"I wasn't even sure I would be a good tutor, but it was a good opportunity to earn a little bit of steady money around my school schedule," Atkinson said.
Later that year she became an academic success coach for the ASC and eventually became a student assistant for Paula Owens, ASC coordinator.
"The characteristics that made Samantha a good fit to move roles from peer tutor to peer mentor to my office assistant are self-awareness, being a positive role model, exhibiting humility, staying authentic, and empowering others," Owens said. 
As graduation approached, Atkinson began to wonder about her next move. She'd enjoyed her time in the ASC and the bond she had built with her co-workers, but knew their time would be cut short.
"I asked Paula if she thought I could get a full-time job on campus. She said yes and started helping me look for jobs that would be a good fit," Atkinson said.
The two discovered a program coordinator position in the College of Science and Mathematics and Atkinson applied. Two weeks after graduation in May 2022, she started her new job with CSM.
Her job entails working with first-year students who have declared a major in CSM and participate in AU's mentorship program. She lines up students to attend workshops and get specialized resources for courses in their majord.
Atkinson remains active outside of work as well. She is an instructor at Absolute Tactical Defense teaching a women's defensive tactics course and continues her freelance artistry business. With the help of what she calls her "trusty planner," she's able to balance all of her busy days.
Owens is proud to see Atkinson continue her journey as an Augusta University employee.
"Samantha and I would frequently discuss her plans post-graduation. When she gave me the smallest hint she would be willing to work for the university, we looked daily at the job board and discussed in detail positions that she was interested in and also those positions that I knew she would seamlessly fit," Owens said.