As construction continues on the new College of Science and Mathematics building on the Health Sciences Campus, a portion of Goss Lane will be closed temporarily beginning around 7 a.m. Dec. 16.
Goss Lane will be closed from the service road for the Interdisciplinary Research Center (CA building) and Carl T. Sanders R & E Building (CB) to Floyd Street. Access to the Goss Lane parking deck (Deck 4) will be maintained via John Wesley Gilbert Drive. If you park in Goss Lane Deck 4, please make plans to enter the deck by way of John Wesley Gilbert Drive, and then take Spellman to Goss.
During this closure, the loading dock for CB and half the loading dock for CA will remain open for deliveries from R. A. Dent Boulevard. See diagram for routes.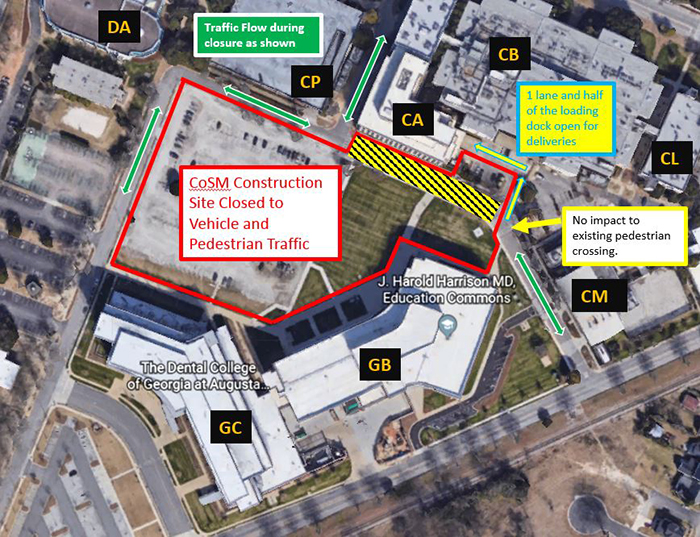 This new traffic pattern will be in place for approximately three months for infrastructure work to be done.
"The College of Science and Mathematics construction is moving forward as expected, and we are pleased with the progress being made," said VP of Facilities Ron Booth. "As with most large-scale building projects, there will be occasional disruptions. We appreciate your patience as we work to minimize these."
There will be no impact to the existing pedestrian crosswalk on Goss Lane between the Sanders Building (CB) and the J. Harold Harrison, M.D. Education Commons (GB). During construction, this will be the most direct pedestrian route from the Laney-Walker Boulevard corridor to the Education Commons.
Please Pardon Our Progress as we continue to grow and expand at Augusta University.