What does a peanut butter and jelly sandwich have to do with cybersecurity?
This weekend PBJ's helped Girl Scout Juniors learn about network security protocols during Augusta University's inaugural Junior Cybersecurity Day.
In partnership with Palo Alto Networks, Girls Scouts of the USA (GSUSA) announced the development of 18 new cybersecurity badges to girls in grades K-12 in 2017. Girl Scouts of Historic Georgia, area Girl Scout leaders and Augusta University leadership joined forces to plan and prepare the curriculum needed for area Girl Scouts to obtain cybersecurity badges in one event, which resulted in the inaugural Junior Cybersecurity Day.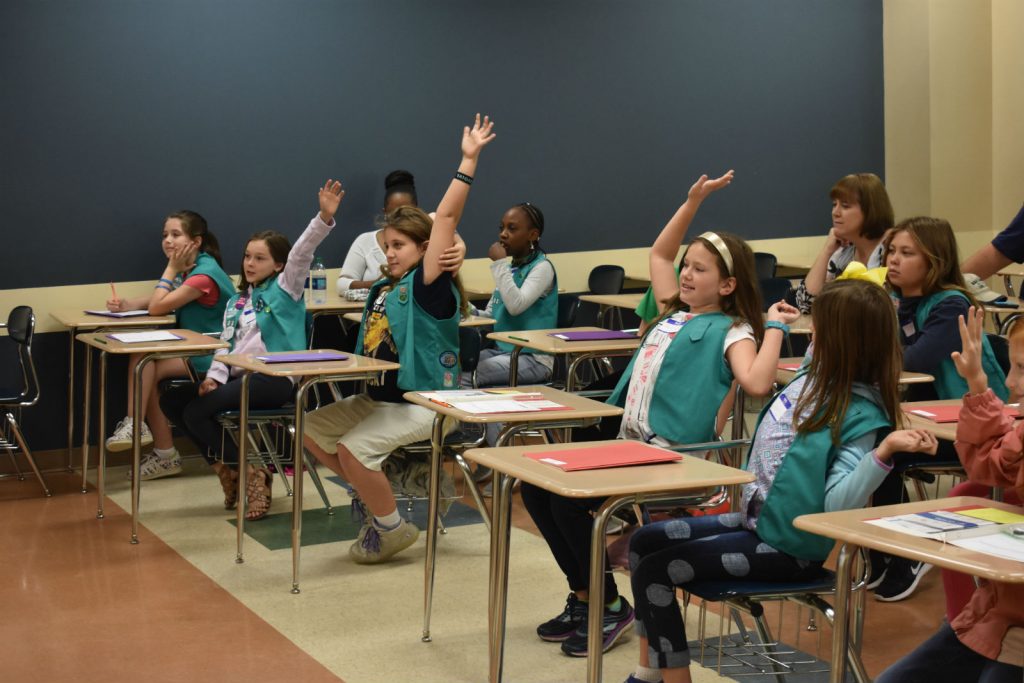 In recognition of October as National Cybersecurity Awareness Month, Augusta University's Cyber Institute hosted Girl Scouts of Historic Georgia's Junior Cybersecurity Day on Oct. 13 at Augusta University's Summerville Campus. Over 80 Girl Scout Juniors and troop leaders from across the state of Georgia, including Athens and Atlanta area troops, attended this inaugural event.
"Women are vastly underrepresented in the technology industry," says Joanne Sexton, Augusta University Cyber Institute Director. "We are looking forward to educating and inspiring more girls to pursue technology-related fields to help close this gap."
"Cybersecurity is one of the fastest growing career fields in the world, and it's critically important that we help prepare girls for leadership in these areas," said Sue Else, CEO of Girl Scouts of Historic Georgia. "We are honored to work with Augusta University's Cyber Institute to introduce girls to topics related to cybersecurity and to inspire them to learn more about how their leadership can make the world a safer, better place. Our goal is to help all our girls become G.I.R.L.s – Go-getters, Innovators, Risk-takers, and Leaders."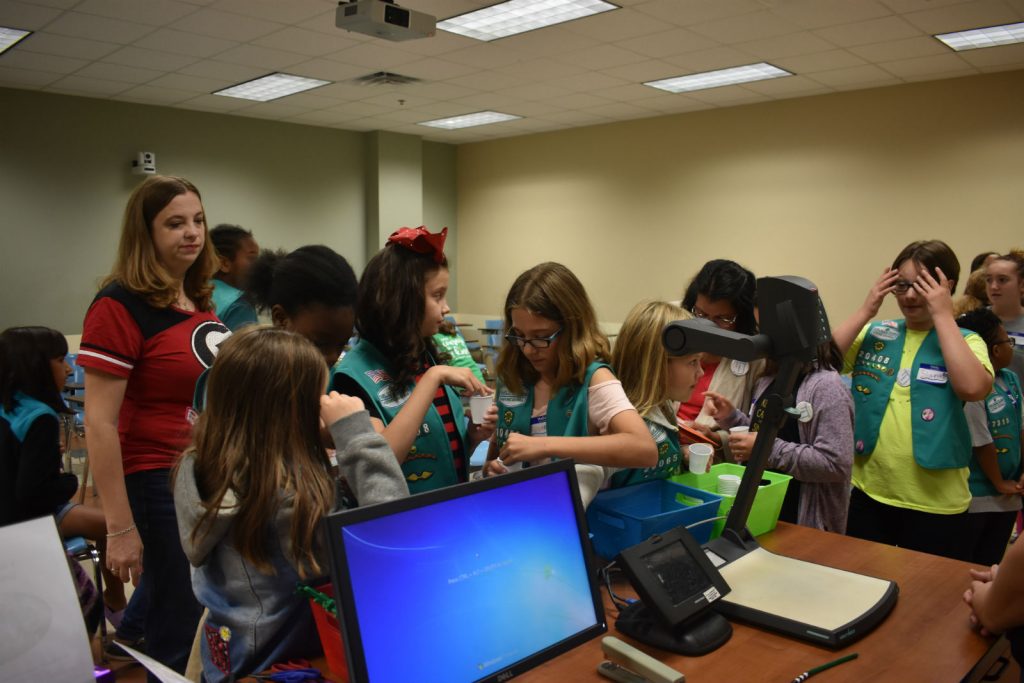 Girl Scouts learned about various cybersecurity topics throughout the day such as password and username strength, binary code, malware and social engineering. Some stations included "unplugged" activities to teach certain cybersecurity topics. Juniors made a binary code letter bracelet while learning about binary code.
Remember the peanut butter and jelly sandwich from earlier? This station demonstrated how networks communicate to one another and how important it is to be specific in the directions given to a computer to send through a network.
The day's activities included a "Women in Technology" panel discussion. Panel members included industry and government representatives from the National Security Agency, U.S. Army Cyber Command, ADP and IBM, in addition to Joanne Sexton, director of Augusta University's Cyber Institute, and Stephanie Morris, an inaugural graduate of Augusta University's School of Computer and Cyber Sciences.
Panelists discussed with the Girl Scouts how they chose their career, what a typical work day/week looks like and what they've seen as women in these technology career fields.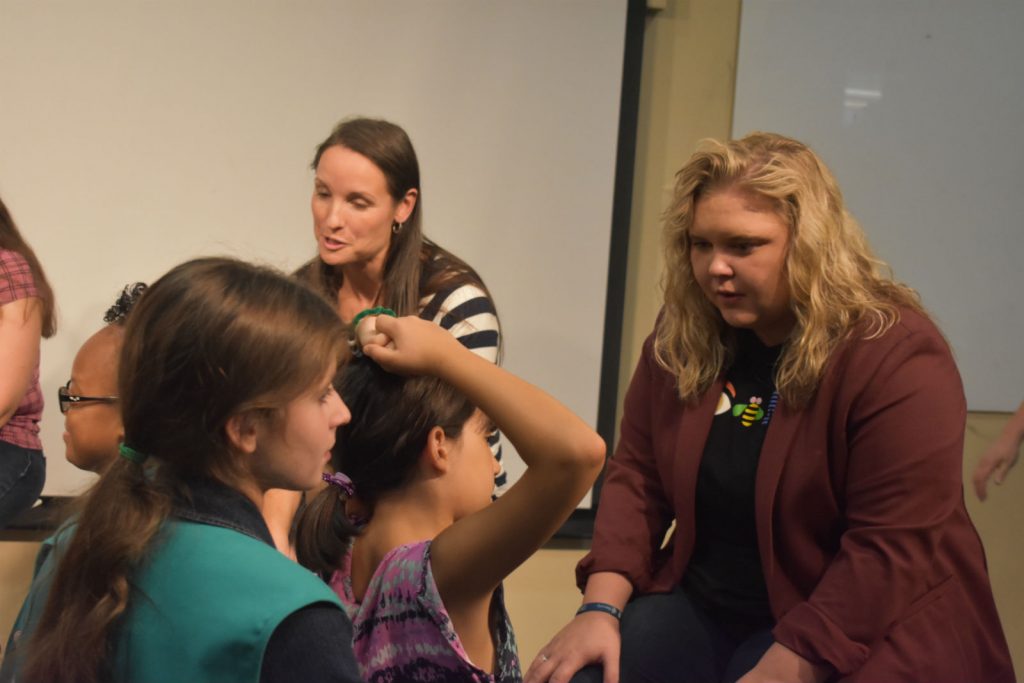 One of these panelists, Bridgette Pepper, project manager and lead cloud developer for IBM's Security Business Unit, says she was thankful for the opportunity to encourage this generation of girls to join her in a STEM field.
"With little of the STEM and cybersecurity workforce professionals being women, it was so encouraging to see these Girl Scouts listen, learn and be enthusiastic as we spoke to them," Pepper said. "They learned that in STEM there are many different routes for a career and are encouraged to not be afraid of what people may think but follow their passion for solving problems and helping others."
While the excitement and enthusiasm was evident throughout the day, Girl Scout Juniors ended the day feeling slightly duped, thanks to a social engineering experiment.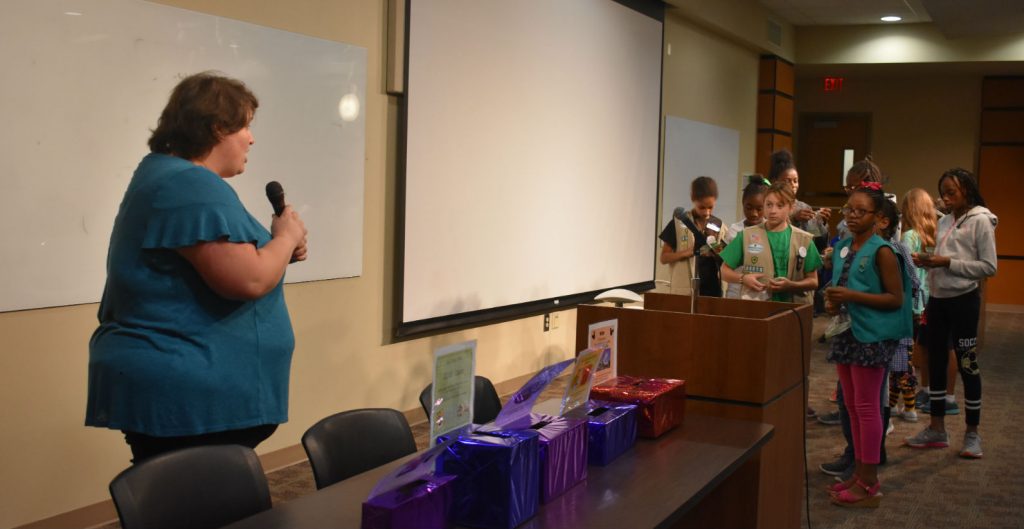 Throughout the course of the day, boxes wrapped in sparkly wrapping paper showcased the opportunity for the girls to win prizes such as an Apple tablet, a trip to Universal Studios and more if they provided their name and certain pieces of personally identifiable information (PII), such as their birthdate. Only a small percentage of the Girl Scouts present did not supply their information to these "giveaways", as none of the prize giveaways mentioned anything about Girl Scouts or cybersecurity.
Lesson learned: Don't always trust anything wrapped in a sparkly box.
Do you know a Girl Scout Juniors troop who missed out on the fun this year? Never fear! Plans are already in the works for year two of Junior Cybersecurity Day at Augusta University.