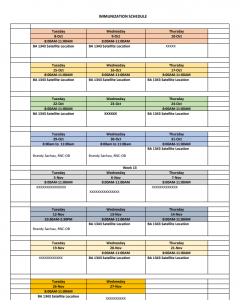 Flu season is here and it's time to get your flu shot.
To better protect our patients, families, and staff from influenza, annual flu shots are mandatory for Augusta University Health employees and for university faculty, staff, vendors and volunteers who perform work inside the medical center and all health clinics.
Beginning Monday, Oct. 7,  free flu shots will be available at Employee Health and Wellness, 1515 Pope Ave., from 7 a.m. to 5 p.m., Monday through Friday. The vaccine will also be available during designated times at the satellite location in the Augusta University Medical Center, Room 1343. View the schedule for those dates and times. The deadline to get your flu shot is Dec. 2, and bring your badge to get your vaccine.
Flu and flu-like illness include fever of 100 degrees or higher or any of the following:
Cough and/or sore throat
Runny or stuffy nose
Headache and/or body aches
Chills
Fatigue
Nausea, vomiting, and/or diarrhea (most common in children)
As a reminder, Augusta University Health's Work Restriction Policy requires employees to stay home if you are sick until they are free of fever for at least 24 hours without the help of fever-reducing medication. Below are more precautions to help curb the spread of the flu virus on campus and in the community:
Practice appropriate hand hygiene: wash with soap and water or use alcohol-based hand sanitizer.
Cover your nose and mouth with a tissue or your elbow when sneezing or coughing.
Avoid touching your face, particularly mucous membranes like the nose, mouth, and eyes.
Contact your care provider by phone for possible antivirals if very young, over the age of 65, or have chronic medical conditions.
Sick household members should stay away from common areas of the home.
Designate a clean and sick bathroom, if you have more than one available.
Clean the sick room and sick bathroom daily with disinfectant.
Clean linens, eating utensils and dishes quickly after use by an ill housemate.
In addition, it is recommended that you wear a surgical mask during and up to five days after caring for someone with flu or flu-like illness.
For more information on flu shot opportunities, call Employee Health and Wellness at 706-721-3418. For weekly updates on the influenza virus, visit the Centers for Disease Control and Prevention's flu page.