AUGUSTA, Ga. – Georgia War Veterans Nursing Home is ranked in the nation's top 15 percent of senior health care providers for patient satisfaction, according to Pinnacle Quality Insight, earning the 2016 Customer Experience Award. This is the second year in a row the skilled nursing facility for veterans has been nationally recognized for quality care.
Evelyn Adams wasn't surprised by the news.
"I couldn't ask for any better care for my husband," she said. "When his mind was still good, he asked me to place him there, because he still wanted to be connected to the military."
U.S. Army veteran and Master Sergeant Richard Adams was stationed in Japan during the Korean War and went on to ser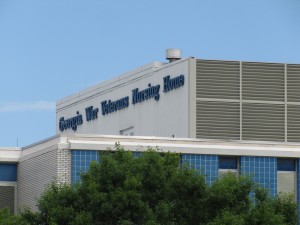 ve his country for 25 years. He's been a resident since August 2012.
For nearly 50 years the Georgia War Veterans Nursing Home has served the veteran community with a strong emphasis on the individual needs of each veteran. The facility, affectionately known as "The Blue Goose," is owned by the Georgia Department of Veterans Service and operated by Augusta University and its health system.
Adams and other family members of residents describe the home as a place infused with dignity and respect for those who served. They also applaud the many activities, events, and outings that are provided for veterans to help keep them involved in everyday life while living in the nursing home.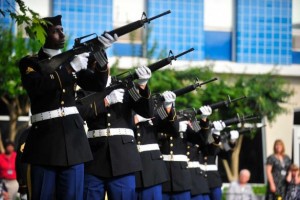 "They have something for every holiday – a Memorial Day service, a Veterans Day service, a big Thanksgiving meal for families, and much more," Adams said. "We get excellent treatment, and I am very fond of the people there and the relationship I have with them."
Pinnacle Quality Insight, a customer satisfaction measurement firm with more than 20 years of experience, conducts more than 100,000 surveys annually for more than 2,200 clients to determine how satisfied patients and families are with their health care services. Customers gave Georgia War praise in the following nine categories:
Admission Process
Safety and Security
Nursing Care
Activities
Quality of Food
Communication from Facility
Recommend to Others
Overall Satisfaction
Overall Customer Experience
"It is truly an honor for our staff to be recognized again this year with the Customer Experience Award for exemplary senior health care services," said Charles Esposito, executive director of Georgia War Veterans Nursing Home. "We believe the men and women who have served our country deserve the best care we can provide them, and this award demonstrates our dedication to excellence in patient care."
By partnering with Pinnacle to conduct monthly surveys and interviews with patients and families, the nursing home is able to evaluate how effectively it provides veteran care on a consistent basis.
"This constant feedback helps us gain a better understanding of our patients' needs and make adjustments in care when necessary," Esposito said. "We are committed to continuing these efforts for the benefit of our patients and families."
Pinnacle offers customer satisfaction measurement via telephone survey to senior care and hospice providers. Pinnacle's feedback process is based on the idea that health care should be evaluated individually — just like it is administered. Pinnacle believes this process is the easiest way for senior care and hospice providers to understand the voice of their customers. For more information, visit pinnacleqi.com.