Julia H. Eveker has been named associate director at the Georgia War Veterans Nursing Home. Her appointment follows the completion of her 10th year at Georgia War, where she has played key administrative roles as director of Health Information Management and Admissions and the home's privacy officer.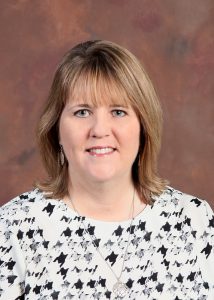 Eveker also serves as a clinical liaison for Augusta University's Department of Clinical and Digital Health Sciences and has oversight of long-term care technology and software for the 192-bed skilled nursing home for veterans.
"Julia's administrative background, health information management experience, and decade of service here at Georgia War will serve her well in her new role," said Carlton Deese, executive director. "We are excited to recognize and promote one of our own who has demonstrated her service and dedication to our veterans."
Eveker earned her a bachelor's degree from Clemson University, a post-baccalaureate certification in Health Information Management from Augusta University, and a master's degree in Health Services Administration from Central Michigan University. She was selected a 2017 Outstanding Alumnus for Health Information Administration by the Augusta University College of Allied Health Sciences and serves as an adjunct assistant professor for the department and on the HIA Advisory Board.
A registered Health Information Administrator, Eveker is a member of the American Health Information Management Association, the Georgia Health Information Management Association and the East Georgia Health Information Management Association.
Before joining Georgia War, Eveker served as a vice president and community development officer for Bank of America's Community Development Corporation and a vice president and senior asset manager for the bank's Real Estate Services division.
The Georgia War Veterans Nursing Home is owned by the Georgia Department of Veterans Service and operated by Augusta University and its health system. It has served the veteran community for nearly 50 years, earning multiple national quality awards for demonstrating a strong emphasis on the individual needs of veterans.