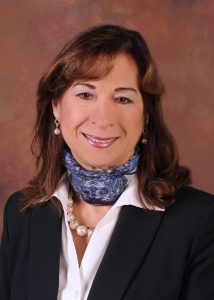 Studies show that more than four in 10 cancer diagnoses and cancer deaths are linked to modifiable risk factors, and thus could be preventable with healthier lifestyle choices.
In her new role as associate director for cancer prevention, control & population health, Dr. Martha S. Tingen will work to build a cancer prevention and control research program to assess the impact of healthier lifestyle choices on reducing preventable cancer deaths in the region. These behaviors include proper nutrition and physical activity; avoiding use of tobacco products, including second-hand smoke exposure; avoiding or limiting alcohol use; and being vaccinated for the human papillomavirus virus (HPV).
"I have had the great privilege of meeting and working with so many amazing people in conducting research," said Tingen, a professor of Pediatrics and Population Health Sciences at the Georgia Prevention Institute and Charles W. Linder, MD, Endowed Chair in Pediatrics. "I am excited about this new opportunity for further collaboration, improving people's health and building an exceptional cancer prevention, control and population health program that will assist the Georgia Cancer Center in earning NCI-designation."
Tingen, who has served as the director of the Tobacco Cessation Clinic at the Georgia Cancer Center since April 2007, has an unrivaled passion for helping people make the right decisions for a healthy life through education, behavioral skills training and outreach activities.
"Dr. Tingen is a fierce advocate for prevention and has already helped countless children avoid the temptation to start smoking and the hazards of alcohol abuse," said Dr. David Hess, dean of the Medical College of Georgia. "This newly expanded position in the Georgia Cancer Center will better enable us to help individuals of all ages manage known cancer risks and ideally avoid the number two killer in our state and nation."
Tingen currently serves as principal investigator on six grants related to substance abuse prevention (electronic cigarettes, alcohol, opioids and prescription drugs misuse), suicide, and early diagnoses and detection of lung cancer. She also serves as co-investigator on the National Cancer Institute's Community Oncology Research Program (NCORP) for minority and underserved community sites, specifically as lead investigator for the cancer care delivery research component. Dr. Sharad Ghamande is principal investigator of the NCORP. Along with physical cancer health disparities, Tingen's new role will allow her to address the mental and emotional health of cancer patients.
"I was alarmed at two articles that came across my desk recently," she said. "Both studies reported on the rates of suicide in cancer patients and specifically those with certain cancer diagnoses. This is another very preventable matter and one I take to heart, having lost my oldest son to suicide in the recent year. Although he did not have cancer, suicide is a tremendous and preventable tragedy and one that we must have the greatest vigilance in addressing and preventing."
Tingen has authored and presented over 100 national and international presentations and publications. She is a graduate of the distinguished Hedwig van Ameringen Executive Leadership in Academic Medicine program and a fellow of the American Academy of Nursing.
Her work related to tobacco prevention and cessation, lung cancer prevention, substance abuse and health disparities in youth and parents spans more than 50 elementary, middle and high schools in rural and urban areas, and includes public housing neighborhoods in the Central Savannah River Area, the Boys and Girls Club and the Salvation Army Kroc Center.