The American Cancer Society and Pfizer have awarded over $399,000 to the Georgia Cancer Center as part of a grant program focused on reducing racial disparities and helping optimize cancer outcomes for Black men and women. More than $3 million in grants have been awarded to 10 communities to address systemic race-related barriers and disparities in the delivery of care that influence outcomes across all cancer types.
The Cancer Health Awareness through screeNinG and Education (CHANGE) initiative is designed to improve cancer care and reduce racial disparities and inequities in a sustainable and collaborative community-based manner.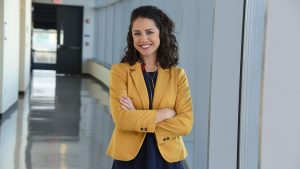 "CHANGE will empower African Americans who experience significant negative social determinants to access care, increase their health knowledge and self-efficacy, and receive the high-quality cancer care and prevention they deserve while providing health care professionals at the Georgia Cancer Center honest and introspective training on cultural competency, recognition of implicit bias, and tools to address these issues in practice," said Dr. Marlo Vernon, assistant professor in the Department of Medicine at the Medical College of Georgia and the Georgia Cancer Center at Augusta University.
The Georgia Cancer Center will recruit up to 150 residents from the Augusta Housing Authority to participate in a cancer awareness, education, and screening program offered at five facilities.
The CHANGE initiative will include:
Delivering a model of evidence-based cancer awareness through health literacy and education, with an emphasis on prevention of modifiable risk factors, screening as indicated, and early detection behaviors.
Providing access and seamless navigation cancer screening and early detection services to eligible participants.
Providing health care professionals with culturally competent cancer training developed in collaboration and partnership with the community.
Conducting cost-effectiveness analyses of these strategies.
The grants, funded by Pfizer Global Medical Grants and overseen by the American Cancer Society, are part of the Addressing Racial Disparities in Cancer Care Competitive Grant Program, a three-year collaboration working to promote equity in cancer outcomes for Black men and women.
"Cancer is a disease that affects everyone, but it doesn't affect everyone equally," said Megan Wessel, vice president, Regional Cancer Control, for the American Cancer Society. "Blacks experience more illness, worse outcomes, and premature death compared to whites in the United States. Further, in our country, African Americans have the highest death rate and shortest survival of any racial/ethnic group for most cancers. Black men also have the highest cancer incidence."
Many factors significantly affect a person's ability to prevent, find, treat, and survive cancer. Factors like a person's income, education, their race, ethnicity, sexual orientation, gender identity, their disability status, or where they live, work, and play can affect the choices a person makes, but more importantly, can affect a person's opportunity to be as healthy as possible.
In a highly competitive process, each applicant was asked to provide local solutions to local problems across the cancer continuum. The awardees will pursue a variety of efforts to address needs that could otherwise go unserved, from cancer screening to support in cancer survivorship for Black men and women.