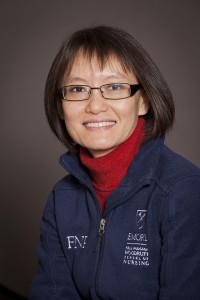 The following is the fourth and final segment of an ongoing series about Quyen Phan, a student in the Augusta University Doctor of Nursing Practice Program and a clinical instructor at Emory University. Fearing arrest, Phan fled Vietnam with her family in 1988. This is her story. (Read Part 3 here)
In 1993, Phan left Hong Kong.
Having spent five years in captivity, learning English from hand-me-down dictionaries and experiencing the world through indirect conversations with NGO representatives, she knew very little about what to expect from Canada.
A family friend had agreed to sponsor her there. She knew she'd continue her education. She'd promised as much to her family. But beyond that, nothing was certain.
When she made landfall, Phan said her top priority was finding a way to take care of her family.
"I saved up enough money to purchase my family's tickets," she said, recalling long hours spent both studying and working in those first few months. "Fourteen months later, I was able to buy their tickets."
Phan spoke very little about the time she spent apart from her family in Canada. The effort of working to raise enough money for three plane tickets, she said, wasn't a feat worth bragging about.
"Anyone in my situation would have done the same thing," she said. "There's nothing extraordinary about it in Vietnamese culture."
Growing up in Vietnam, Phan said family members were expected to sacrifice for one another. So much so, in fact, that the act couldn't fairly be called sacrificing.
"Growing up in that culture, it's like it's expected of you as a family member to do everything in your power," she said. "Whether that means feeding your family when they're hungry, nursing them when they're wounded, rescuing them when they're near death. You do it."
With her family safely landed, Phan said she turned her focus once more toward education.
In 1994, she earned the Ontario Scholar Award, and by 1999, she had graduated from the University of Ottawa School of Nursing with a Bachelor of Science in Nursing degree. The transition from Ontario Scholar to nurse wasn't exactly a straight shot, though.
Phan's parents had some very particular ideas about their daughter's future.
"They expected that I was going to be a doctor," she explained.
In her first year of university, Phan said she got to experience what life as a doctor might be like.
"I had the opportunity to visit some of the local hospitals while studying at the University of Ontario," she said. "I didn't particularly like the idea of being a doctor, though. My priority was to do something fast so that I could get out and support my family."
Phan said she doubted she could have afforded to become a doctor at the time anyway.
"Even if I had the discipline and mental capacity to deal with medical school," she joked.
After a solid year of biology, Phan hadn't given up looking for work in the medical field, though. Determined to live up to her own ideals, she spent countless hours researching a career path that would not only allow her to fulfil her and her family's wishes, but which would also leave her with more time on her hands. Then, a friend suggested something she had never considered before.
Why not try nursing?
"Nursing was such a foreign concept to me at the time," Phan said. "In Vietnam, nursing is the equivalent of working as an assistant in a nursing home. I was skeptical at first, but when my friend explained what nursing really was, I was willing to give it a try."
The match was a perfect fit. Almost.
"My mom wasn't happy," Phan explained. "I couldn't explain nursing to her, and I knew she was disappointed. I'm very glad I did it, though, because I've been loving nursing."
That love hasn't disappeared. But it was only one of the great loves Phan brought with her when she moved to Georgia from Canada.
In 1999, Phan married, and in 2000, she and her husband set out on a "little adventure" that would shape her future for many years to come.
"My husband got a job here in Georgia," Phan said. "We were young and we didn't have any kids, so we thought, this will be an adventure, right? We'll just spend a little while in Georgia and then go somewhere else."
But as was the case with so many other visitors, Georgia's rolling hills, scenic mountains and miles of coastline won over the adventurous Phans. They've lived here ever since.
In the last 15 years, Phan said her life has changed drastically.
She earned her Master of Science in Nursing degree from Emory University in 2003. A year later, despite swearing to her father that she would never do so, she began teaching nursing courses. In the last two decades, she became a mother, a researcher and a well-respected member of Emory's faculty.
Now, she dedicates a large portion of her time to aiding immigrant Vietnamese populations in and around Atlanta.
Partly, it was that decision that led her to the DNP program at Augusta University.
"Having both a doctorate and a nurse practitioner background would help me achieve something that I cannot achieve right now with this community," she said. "I found that Augusta University's DNP program combines the DNP and DNP roles and realized it was the perfect program for me."
That's a good thing, too, because she only applied to one program.
"Remembering my interview, someone asked me if I applied to any other school," Phan said, chuckling. "I said no, should I have? That is me. I don't overthink the options. I have a clear goal, and I pick out the things I need to get to that goal. I only applied to Augusta University, and I'm very glad I came here."
After graduating, she hopes to further her commitment to the Vietnamese community in Atlanta.
The number one problem faced by that community, she said?
"Catching a bad wind."
"Growing up, I had a very small glimpse of the problem," Phan explained. "In Vietnam, it's very common to say that people who become very severely sick or incapable of moving had 'caught a bad wind.'"
The issue, which rural Vietnamese healers struggled to diagnose, actually referred to those who had suffered strokes.
"Coming here and working with the people in the clinic, I was very ignorant before as to why we saw so many stroke cases in the Vietnamese community," she said. "Working with the patients, I realized they knew almost nothing about strokes. They don't do anything once they've experienced a stroke or seen a family member suffer one. They just left it up to chance."
When she tells her patients what they've endured, she said many respond with shame. They consider themselves ignorant or uninformed, owing in part to a strict code of honor and dignity, common in Vietnamese society.
"When I see them, I never really sit down to talk to them about how they see Vietnam," Phan explained. "But I do have a lot of stories to share with them, so whenever I see someone who just got here and is disappointed because they didn't get the job they wanted or who is ashamed that they had to come to a free clinic, I tell them a story about what happened to me. I tell them how far I've come."
That simple act – sharing stories to build trust – speaks volumes about the type of person Phan is. But it can't possibly compare to the way she views her own story.
"My story is in no way unique," she said. "It's different in the sense that I'm a refugee from Vietnam and now I'm in a DNP program, but it's not unique in the struggle."
But despite Phan's claims, her story is unique. Even though she fled her homeland as a child, the scars of Vietnam traveled with her.
She says that, despite her status as an instructor and a student, she still occasionally feels afraid when expressing her opinion.
"To be honest, I still have some trouble expressing my belief and my opinions because in the back of my mind, I still fear that something negative would come back to haunt me," she said. "I consciously try to be different, to be better about it. I know that I still struggle, though."
That said, Phan doesn't let her fears hold her back.
"There's a lot of amazing individuals out there who've been through a lot, just like me," she said. "They get to where they are because of the determination, dedication and hard work."
Whether those other individuals someday have their own stories told remains to be seen. For now, though, Augusta University has been honored to share this one.
Quyen wishes to thank Dr. Marguerite Murphy, director of the Augusta University College of Nursing's Doctor of Nursing Practice Program.
In her own words, Quyen said "Dr. Murphy was the one to answer all of my questions when I had inquiries about the program. She is very patient, like a motherly figure. You know you're safe when you ask her a silly question. I'm very grateful for her. Thank you, Dr. Murphy."