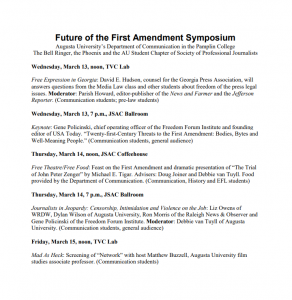 Gene Policinski, chief operating officer of the Freedom Forum Institute and a veteran journalist, will be the keynote speaker at the Future of the First Amendment Symposium, a three-day event at Augusta University from March 13-15.
Policinski, who was the founding editor of USA Today, will give a talk titled "Twenty-First-Century Threats to the First Amendment: Bodies, Bytes and Well-Meaning People" Wednesday, March 13, at 7 p.m. in the Jaguar Student Activities Center Ballroom. Like all events during the symposium, Policinski's talk is free and open to the public.
The First Amendment event at AU is sponsored by Pamplin College of Arts, Humanities, and Social Sciences, the Department of Communication, the Bell Ringer student newspaper, the Phoenix student magazine and the AU Student Chapter of the Society of Professional Journalists.
For more information about the three-day event email Dr. David Bulla or call (706) 729-2416.