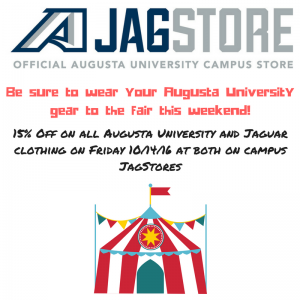 Sunday, Oct. 16, is Augusta University Day at the Georgia-Carolina State Fair, and thanks to the generosity of the Augusta Exchange Club, faculty, staff, students and their families can get into the fair that day for free.
For free.
Not only that, both JagStores are offering 15 percent off Augusta University and Jaguar clothing on Friday, Oct. 14, which means it's never been easier to show your colors.
Free fair tickets and discounted JagGear – it doesn't get better than that.
So pick up your free family passes at the locations below, stop by either JagStore on Friday for your 15 percent discount and then head to the fair on Sunday, Oct. 16, to have fun with the rest of Jaguar Nation. And don't forget to share you fun on social media: #JagsAtTheFair.
Pick up your tickets at the following locations:
Student Center Wellness Desk
JSAC
HR: both front desk locations (Annex and Pope Avenue)
Medical Center: West Entrance, South Entrance and Harper Street
CHOG: Front Desk
Residence Hall Front Desk