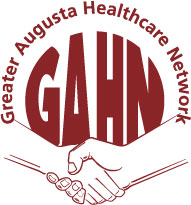 The Greater Augusta Healthcare Network (GAHN), one of the six signature programs of the Augusta University College of Nursing, is set to hold its annual community health forum to discuss health care access in the Greater Augusta area. Anyone interested in health care issues in the Augusta region is welcome to attend.
The event will be held Sept. 28 from 9:45 a.m. to 2 p.m. in the Augusta Public Library Main Branch conference room at 832 Telfair Street.
The event will feature Dr. Stephen Goggans, district health director of East Central Public Health District, who will facilitate a panel work session. The event will also include various exhibits from health care organizations throughout the community, a panel session with Augusta commissioners, and an awards presentation.
GAHN was formed in 2008 to bring together a safety net of organizations, such as faith-based clinics, area hospitals, and service agencies, to improve access to health care for the underinsured and uninsured in the area.
For more information on the GAHN Forum, email Kevin Velez or call 706-721-3771.