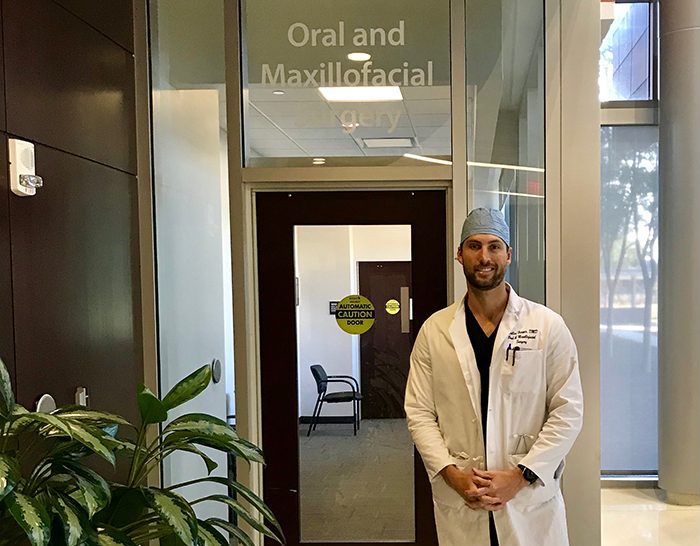 If you're a Clemson Tigers football fan, you know of former quarterback Cullen Harper.
You know he was a two-year starter and team captain in 2007 and 2008. You know he played in 31 games, set 28 school records and completed 518 of 815 pass attempts for 5,762 yards, 42 touchdowns and 20 interceptions.
But it's what Harper is doing these days, however, that might surprise you.
He stepped away from the football field and dedicated the past five years to becoming a dentist. He is currently training to become an oral and maxillofacial surgeon at The Dental College of Georgia.
"I think sports in general, the game kind of tells you when you're done playing, and unfortunately it is usually before most people are really willing to hang it up," Harper said. "There's a select few that are able to play as long as they want, but I think for the 99% of other people, it's just kind of your time comes."
While Harper was excited to play football, the level of passion for his current profession is just as high, and he has worked hard to get to this chapter of his life.
Transitioning from life's early passion
Around 10th grade, Harper started focusing more on what he enjoyed.
"I got kind of bored with baseball and basketball … I don't know, the passion just wasn't there like it was for football," he said.
Harper, who grew up in the Atlanta area, started training, practicing and participating in football camps to hone his craft to get to a level where 10 colleges offered him a scholarship. He ultimately committed to Clemson the summer before his senior year of high school. Though he fractured his collarbone during a preseason game and didn't get to play as much as he had hoped, Clemson honored its scholarship commitment to him.
"I really enjoyed the campus, and the football program in general was kind of exactly what I was looking for," he said. "On the academic side of things, everything was kind of a good fit for me."
Injuries and other ailments resurfaced during his final two years with the Tigers. Like most athletes, the allure of playing professionally was enticing, so after graduating with a bachelor's in business management in 2008, Harper participated in the NFL Draft Combine. The purpose of the weeklong event is for players to showcase their skills for the scouts and coaches in attendance with the hopes of increasing their chances of getting drafted.
Although he didn't get drafted, he signed a free-agent contract with the Buffalo Bills and practiced in their preseason camp before being released. While he attempted to prolong his football career late into the fall of 2008, he soon came to the realization that he needed to explore life after football.
He began working in medical sales with Orthovita, where his primary responsibilities included assisting doctors and nurses in the operating room during hip, knee, shoulder, elbow and back surgeries when using their products.
It was during those surgeries he realized he wanted to do more.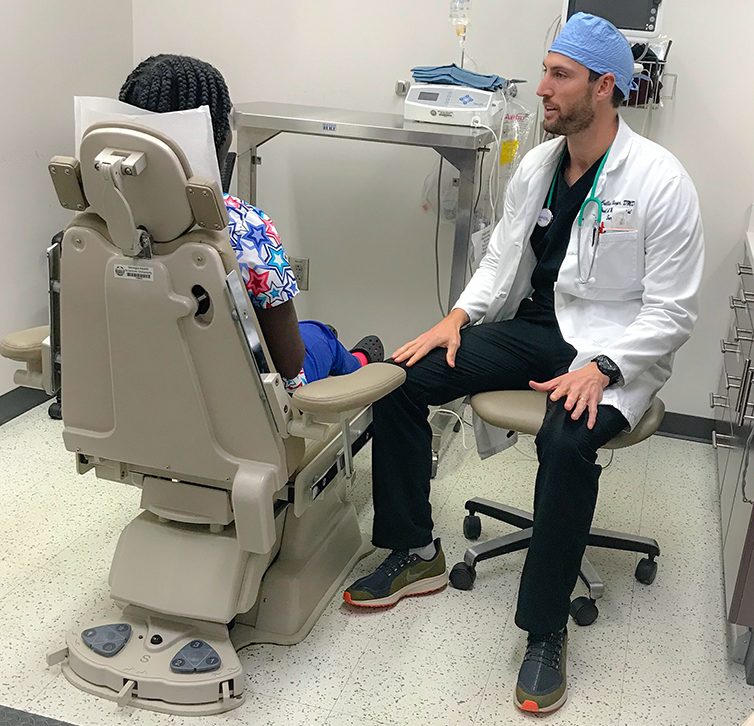 Working toward a goal
During his time in sales, Harper was introduced to his wife, Jordan Harper, by their dads after a church service, but it would take a little bit of time before the two of them reconnected and started a relationship.
"I knew he had played at Clemson, but that was really about it," said Jordan, who was finishing her studies to become a nurse practitioner at the University of Auburn before she moved to Washington, D.C., for an internship and later practiced in Peru. "We later found out that our high schools played each other one homecoming, but we never knew each other until after college."
After a year together, they married and were preparing for their honeymoon. During this time, Cullen was finishing up his master's degree in business administration at Clemson, and the discussion of possible job options was on the table, which included going to school to become a dentist.
"We went on our honeymoon to Singapore and Thailand, and we stayed with a friend of ours that was a dentist in Singapore," Jordan said. "We ended up spending four or five days with him, and that's when we both had this idea together. And that's when we started talking about the possibility of him going to dental school."
He had plenty of discussions with the people in his life regarding which career path to choose before finally settling on working to become a dentist. Once he made the decision, he went all in.
He finished the required classes in one year, graduating with a Bachelor of Science in biology. He then went to the Medical University of South Carolina in Charleston, South Carolina, for the next four years and graduated in May 2019 near the top of his class.
"The first year was a little bit of an adjustment for me because my background wasn't really science," he said. "Before I used to draw things out because I was more of a visual learner. So, there was a little bit of an adjustment as far as how to effectively and properly study for those classes."
In his second year, he became more hands-on with his learning and practicing dentistry, so by the time that year ended, he had made the decision to go into oral surgery. He did several internships and shadowed oral surgeons to learn more.
Dr. Jeffrey James, program director for the Department of Oral and Maxillofacial Surgery at DCG, didn't know of Cullen's football background until near the end of his interview to become an intern.
"That was one of the last things he said to us, honestly," James said. "He doesn't want to ride on his past accomplishments for his next accomplishments. In our profession, you have to check certain boxes and he's doing that by his own merit."
James has seen Cullen's drive and motivation during his first four months in Augusta and is impressed with not only the way he's able to maintain his composure during his procedures but also with the level of maturity he shows day in and day out.
"He has a way of being able to maintain poise … he's not a man to be flustered," James said. "If he's in a tough surgery, he does not want to give up or freak out. He's grinding it out and learning what he can, but he asks the appropriate questions when he needs to.
"Some, when they get out of dental school, are very green and are still getting used to the work," he said. "You can clearly see his stress management is at a different level, and I attribute that to his years of playing football."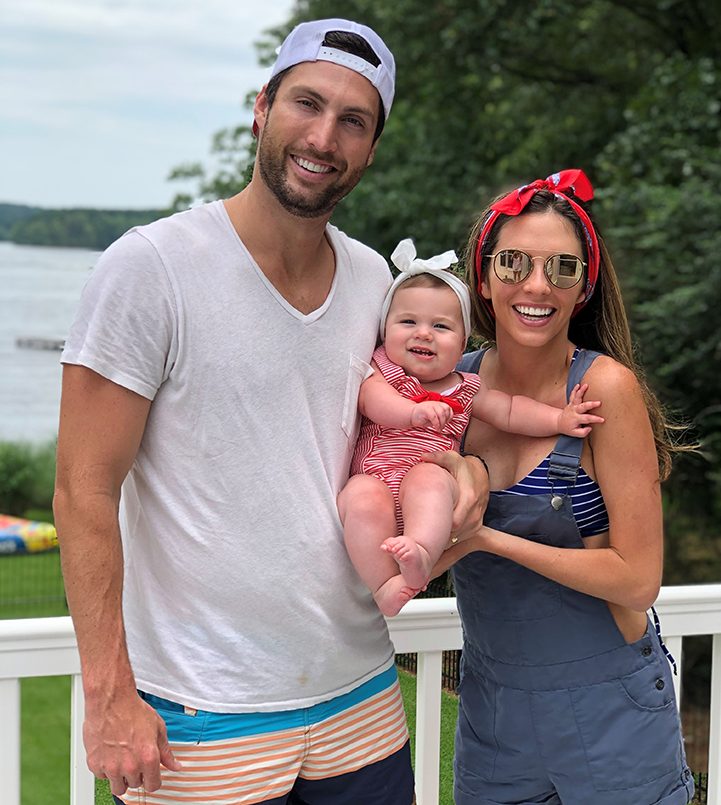 Proving his dedication
Jordan Harper admires her husband's tenacity for wanting to achieve his goal of becoming an oral surgeon.
"He's very persistent and committed to becoming the best possible surgeon he can.  That just speaks to the level of discipline he has," she said. "It was really important for me to see and understand how much he wanted this. Of course, I'm going to support that."
Cullen's weeks range from being on call at night to going to the Augusta State Medical Prison. He says his time here has been a good experience and that everyone has been accommodating and helpful in his medical pursuit.
"When I've told someone about my medical training, they are always like, 'Oh, they have a great program over there.' And they do," he said. "The professionalism and reputation that Augusta University has is really good treatment and overall care."
If he continues working as hard as he has been these past few months, James foresees a bright future for Cullen.
"His hands are doing what his eyes are asking him to do," James said. "His clinical care is excellent for his level, and with more training, it will continue to excel."
Whether he finishes his training here in Augusta or elsewhere, Harper is grateful for the opportunities he's had to fulfill a passion for making a difference in people's lives, even if he's taken a slightly different road than most have. But he doesn't take for granted his years playing sports and how that's helped him prepare for his current career path.
"I think sports in general teaches you a lot of life lessons, and especially sports that are team-oriented," he said. "Every day we work as a team: There are 10 residents, three attendings, and communication and being on the same page is extremely important. And without that, the day would just be a complete disaster. It was the same way in football. If you weren't communicating and on the same page and working toward the same goal from play to play, it wasn't going to work."
Between Cullen's schedule and Jordan commuting several days a month to Charleston, South Carolina, for her practice that she started when Cullen was going to MUSC, they care for their soon-to-be 1-year-old daughter, Charlie.
"He is such a good dad. He is super involved and he's really good at connecting … he can get (Charlie) to laugh every day. I still can't get her to laugh, but I'm not bitter about it," Jordan said, laughing.
While Cullen wants to do well in his profession, his family is his driving force.
"I just want to do well for them, that's the biggest thing," he said. "I have personal goals and things that I want to accomplish for myself, but at the same time, when you have a little kid you realize, a lot of what you do is for them. Right now, I am just trying to be my best possible self, for my wife and my daughter. If I can find some enjoyment out of that, I'll be all right."