Two graduate programs at Augusta University that first matriculated students in fall 2020 are preparing to recognize their first cohorts of graduates this spring.
Six students will graduate with a Master of Science in Biological and Computational Mathematics, a premier graduate program in applied mathematics. They are Zach Alvin, Kelly Kennedy, Jackie Meyer, Austin Mobley, Maggie Morales and Karson Welty.
Five students, Emma Geister, Jacob Harman, Henry Knox, Amy Trang, and Kailey Wyman, will graduate from the Master of Science in Biomolecular Science program following successful thesis defenses in April.
These College of Science and Mathematics and The Graduate School students, having persevered through the challenges brought on by the pandemic, have paved the way for generations of students to come.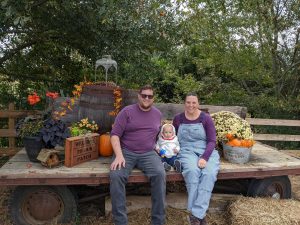 Zachary Alvin has enjoyed his experience as a student in the biological and computational mathematics program and as a teaching assistant working with students in the College of Science and Mathematics tutoring center.
Alvin said many of the classes were well thought out and useful outside academia. "In particular, I have really enjoyed what I've learned about optimization techniques and numerical analysis methods."
As an undergraduate math major at Augusta University, Alvin completed an undergraduate research project with Dr. He Yang, assistant professor of mathematics. The project on image de-noising was completed in spring 2019. As a graduate student, Alvin also took Yang's numerical analysis course in his first semester.
Alvin recounted pleasant memories when working with Yang and thus continued to do research with him. "He's beyond brilliant. He doesn't mind explaining things to me, so I understand them, and that's what I really appreciate about him."
Alvin is working with Yang on another research project using machine learning to solve partial differential equations. Machine learning utilizes a structured network of neurons that mimics the brain. For mathematics specifically, it employs a system of equations that are computed at each neuron and passed to the next neuron. This system is used primarily in natural language processing, pattern recognition and medical processing.
Alvin is also thankful to Dr. Brooke J. McGuire, lecturer of mathematics, who taught him new teaching methods, especially in the precalculus course. Alvin adapted McGuire's new teaching methods, improving upon the old-school way he had been taught.
Finally, Alvin expressed appreciation for his peers in the program and said they were "all there to help each other."
"I can honestly say that I don't feel like there's a rivalry amongst us. It's a 'let's all get through this together' mentality," he said.
Before making waves in mathematics, Alvin, originally from northern Minnesota, served for seven years in the U.S. Air Force as a linguist and was deployed to Afghanistan twice. While stationed in Maryland, he met his future wife, who was serving in the U.S. Army.
During his first year as a graduate student, Alvin welcomed his first-born. To balance his graduate program coursework and assistantship as a mathematics tutor, Alvin compartmentalized his two priorities. As a graduate student, he maintained an 8-to-5 schedule where he worked, attended classes and studied. When he gets home, he dedicates time to his family.
Alvin said the timing of his graduation from the program works out well for his family. His wife has a year left in the Army until she retires, so it's time for him to graduate and get a job. He has applied for statistician jobs with NASA, analyst positions with NSA and data scientist jobs with the Defense Counterintelligence and Security Agency.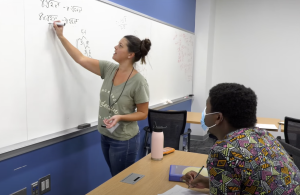 Maggie Morales helps undergraduate students as a math tutor through her graduate assistantship, which serves as the primary means of financial support for students pursuing graduate study in mathematics.
Studying in the same graduate program as Alvin, Morales is an Augusta native who graduated with a Bachelor of Science in Mathematics from Augusta University in 2017.
Around the time she was about to graduate, Morales heard her alma mater was working on the development of a graduate program in mathematics. Her positive experience as an undergraduate student prompted her to waste no time submitting her application to the graduate program; three years later, it finally came to fruition.
"Jumping back into mathematics after a three-year break was slightly daunting, to say the least, but I found that tutoring undergraduate level mathematics helped to bring it all back pretty quickly," Morales said.
Morales conducted her graduate research project, "A Two-dose Vaccination Model of Pertussis," under the mentorship of Dr. Eric Numfor, associate professor of mathematics.
The objective of the research was to investigate the impact of a multi-dose vaccine on the dynamics of Bordetella pertussis, commonly known as whooping cough, and to propose an optimal vaccination strategy for its control. The Centers for Disease Control and Prevention recommends DTaP, a vaccine that helps young children develop immunity to this disease. Children are recommended to take DTaP at age 2, 4, 6 and 15-18 months, then again at age 4-6 years.
"Since five doses of the DTaP are recommended, in order to study a multi-dose vaccination model, we focus our research on a two-dose vaccine for pertussis," Morales said. "In the context of our model, it is assumed that the first dose encompasses all doses administered at 2, 4, 6, and 15-18 months, and the second dose in our model is the dose administered at 4-6 years."
The duo formulated and analyzed their mathematic model, where humans who have completed only the first dose can still transmit the disease when they come in contact with another human, while those who have completed both doses are temporarily immune. They hope to publish the research paper when it is finished. They have formulated an optimal vaccination approach using techniques of optimal control theory and are working on designing strategies for the control of pertussis in a two-dose model.
Numfor praised Morales for her dedication as a researcher.
"During this ongoing research on a mathematical model of pertussis, Maggie is actively involved in every facet of the research project," Numfor said. "She contributes copious innovative ideas that foster the development of the project. I admire her curiosity and determination in completing any given task."
In addition to the research project, the biological and computational mathematics program requires students to pass a set of comprehensive exams to graduate. Morales was one of two students who passed all exams on the first attempt, which required her to delicately balance her studies while working as a tutor and taking classes.
Numfor, who taught three courses for the first cohort of students in the graduate program, saw how Morales prospered in his classrooms and said, "Maggie was actively involved in each of these courses. During most of my lectures, it was easy to recognize her presence in the class based on the number of questions posed. Her performance in all three courses is exceptional and corroborates her curiosity and quest for knowledge."
Morales will become a two-time graduate of the College of Science and Mathematics this spring. She plans to enter the workforce and start her career in the Augusta area.
Even with a busy schedule as a graduate student, Morales managed to travel far and wide with her family and friends, and she even started a new role as an aunt.
"All in all, I have enjoyed my time as a mathematics graduate student, and I am going to miss Augusta University when it is all said and done," Morales said.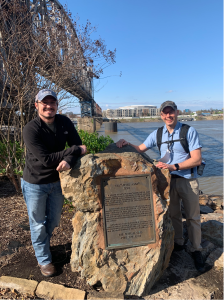 Jacob Harman grew up in Franklin, Georgia, and obtained his undergraduate degree from LaGrange College. Initially preparing for medical school, Harman enrolled in Augusta University's Master of Science in Biomolecular Science program to boost his understanding of the field of biological sciences and research.
However, after taking a rational drug design class with Dr. Siva Panda, associate professor of chemistry, Harman gained a new perspective about his future in the health care field.
"Dr. Panda's class solidified my decision to pursue research as a career. The thought of being able to develop treatments for patients fills me with anticipation for the future," Harman said.
Combining his original path in biological science with his new interests in medicinal chemistry, Harmon worked with Dr. Paul Langridge to investigate fundamental causes of diseases like cancer, an important research approach that can identify new anticancer drug targets.
Langridge's research expertise is focused on an important signaling pathway in biology that involves the Notch receptor protein. Notch acts to control cell growth and is found in all animals. When it "goes wrong," it can cause diseases like T-cell leukemia and other cancers. Notch has an unusual activation mechanism whereby it is literally pulled apart by force exerted by a neighboring cell.
"It's not super common, but I have found new proteins that respond to force," Harman said. "Right now, we are trying to figure out what makes these proteins force sensitive and the reason behind the sensitivity." In the future, this understanding may be used to develop drugs that can alter protein responses to force and correct Notch defects.
Langridge, originally from the United Kingdom, was hired as an assistant professor of biological sciences around the same time Harman enrolled. The duo collaborated for 18 months on this research project. Harman has helped establish Langridge's first research laboratory, an extra challenge for a graduate student, in addition to performing experiments in the lab.
"In addition to completing his thesis work, Jacob Harman has made a lasting impact on the organization of the lab as a whole, which I am sure will benefit future undergraduate and graduate researchers," Langridge said. "He mentored others in the lab, helped establish lab protocols, made sure equipment was set up and worked correctly, and became a fantastic lab citizen."
Post-graduation, Harman plans to provide transition help for Langridge's new grad students and will remain on campus until the end of June.
Harman received admission to a doctoral program in pharmacy. He will matriculate at Mercer University in Atlanta this fall. He has already inquired about working in a lab and possibly teaching while studying there. He intends to obtain his license as a pharmacy technician after the first year of pharmacy school and work as a technician next summer.
"I am delighted that through his hard work, he has been able to accomplish his goal of going to pharmacy school, where he will once again have the opportunity to apply his research skills," Langridge said.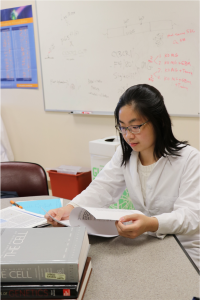 Amy Trang, originally from the Atlanta area, first came to Augusta University for her undergraduate degree. She graduated in the spring of 2020 with a Bachelor of Science in Cell and Molecular Biology and a minor in business administration. She was also one of the recipients of the Department of Biological Sciences Academic Achievement Award, presented to graduating seniors with the highest level of academic excellence as measured by their GPA in science and mathematics courses.
Her experience as an undergraduate and a goal to pursue a career in research prompted her to apply at her alma mater for the Master of Science in Biomolecular Science program with a concentration in cell and molecular biology.
Trang attested the faculty in the program are brilliant teachers with a great deal of expertise; most importantly, she said, they genuinely care about making sure their students understand the content they study. They help students prepare for professional school and the workforce, she said.
As a graduate teaching assistant responsible for two labs a semester, Trang worked under the guidance of Dr. Ruchi Patel, lecturer in biological sciences, to teach BIOL 1107 Principles of Biology I lab.
The teaching responsibility was challenging for Trang, who describes herself as an introvert. She credits Patel for helping her to overcome her barrier.
"Dr. Patel helped me get out of my shell a little bit to be more outspoken. She also guided me on other teacher's responsibilities such as grading assignments, because I had never graded student work prior to that."
Trang gained an understanding of whether her students were successfully learning the material through grading their coursework, which was helpful because it gave her a direction in teaching the lab course.
Aside from teaching, Trang researched glioblastoma, a malignant and aggressive type of brain tumor, under Dr. Jennifer Bradford, associate professor of biological sciences. Their overall goal was to determine how inhibition of signaling in microglia impacts tumor formation and progression. Microglia are considered immune sentinels that orchestrate a potent inflammatory response.
Trang presented her research findings at the Experimental Biology 2022 conference, which took place from April 2-5 in Philadelphia. The conference, comprising five well-known societies in biological sciences, is one of the largest in the nation.
With funding from the College of Science and Mathematics, Graduate Student Government Association and the Department of Biological Sciences, Trang was the only Augusta University student from the program to attend the conference. It gave her opportunities not only to present her research poster, but also to connect with people from across the country, observing groundbreaking research and innovative scientific instrumentation.
"I really value my time there because it opened my eyes to all the different research that's going on within various fields of biology," Trang said.
Aside from school and work, Trang had fun in the program because she got to know her fellow classmates well. They studied together, ate dinner together, celebrated birthdays and built a teamwork mentality as they experienced the challenges of being the program's first cohort.
After spending over six years at Augusta University for both her bachelor's and master's degrees, Trang wants to continue conducting scientific experiments, learning new research techniques, and doing what she loves the most –contributing to the scientific community and making an impact.
"I enjoyed being in the lab with Dr. Bradford and my peers in the lab. I loved working with them," she said. "I'm hoping to build a research career right now, and I'm not limited to Augusta or just Georgia in general. I'm open to relocating if I need to, and I feel prepared to go anywhere."