People across the globe have faced unique challenges in 2020 that have left them frustrated and overwhelmed at times.
But for local Realtor Mary Booker-Lemon, this year has brought her much-needed answers about the cancer battle she is facing.
In January 2020, she began chemotherapy treatment at the Georgia Cancer Center after being diagnosed with advanced ovarian cancer. While such a serious diagnosis is not something most people would celebrate, Booker-Lemon said she was relieved to finally know the cause of her pain and comforted to know that the staff at the Georgia Cancer Center would be her partner in fighting the cancer.
"For me, 2019 was probably one of the most challenging years of my life," Booker-Lemon said. "My mother, who had lived with my husband and me for eight years and was suffering with dementia and Parkinson's disease, passed in March of 2019. It was such a sad time because we were all so close."
Focusing on her mother's care for so many years had taken its toll, but Booker-Lemon was determined that her mom, Dorothy Anne McNealy Booker, would have the best quality of life possible up until the very end.
"I guess being a caregiver, you have a tendency to not pay as much attention to what's going on with yourself," Booker-Lemon said. "I knew I was pretty run down because my mom needed a lot of help at night and 24/7 care. My sister, Joanne Courtney, and my mom's wonderful friend, Bea, were always available to help with my mom's care. But, eventually, my mom reached a point that she couldn't go to my sister's house anymore, so it was a difficult time."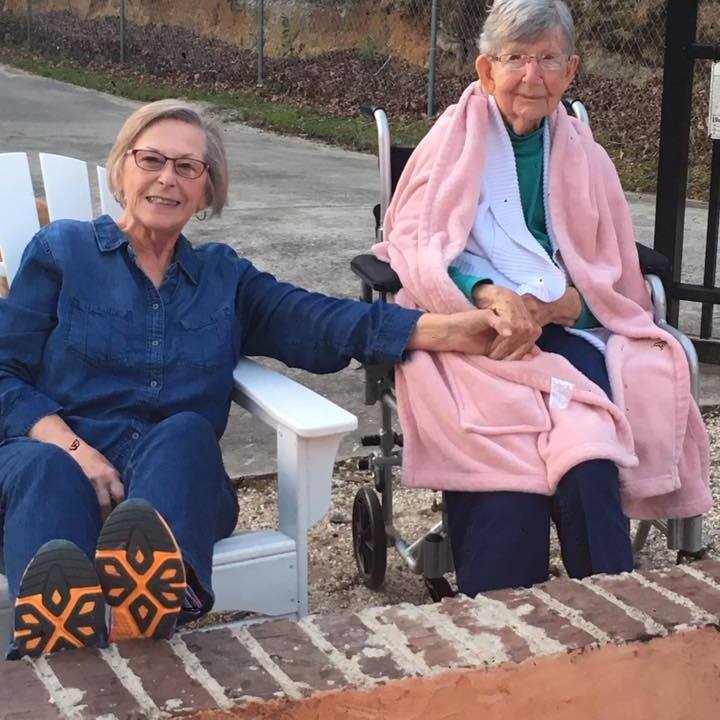 When her mother passed away, Booker-Lemon felt tremendously drained and began experiencing discomfort in her abdominal area.
"At first, I thought it was just grief. I thought it was me missing her and my body was feeling that emotional pain," she said. "But I felt horrible. I was out of energy and my abdominal area wasn't sore exactly, but I did have a lot of pain."
Receiving the diagnosis
In the spring of 2019, Booker-Lemon spoke to a surgeon in the Augusta area about her symptoms, hoping to find some relief.
"I said, 'Something's wrong here, I just don't know what's going on,'" Booker-Lemon said, adding that the surgeon immediately conducted a computerized tomography (CT) scan. "It showed an abdominal abscess and he instructed me to begin taking an antibiotic."
After taking a series of antibiotics to treat the abscess, Booker-Lemon still felt terrible.
"I've got a pretty high pain threshold, but this was crazy painful," she said. "We basically spent all year long trying to get the abscesses to clear up."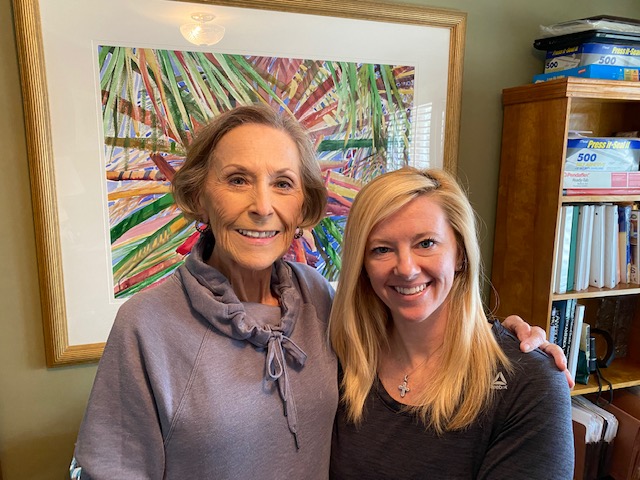 By November 2019, Booker-Lemon experienced another medical setback when she suffered a stroke.
"I was only in the hospital for two days and I am just so blessed because I was left with very minimal signs of a stroke," she said. "The stroke hit me in three places: the back, the right side and the front right of my head. But the only time I ever knew that I had a stroke was my left hand was not as strong as my right hand."
But even after several tests following her stroke, Booker-Lemon still wasn't diagnosed with ovarian cancer. It wasn't until her doctor recommended a paracentesis to test fluid that was causing swelling in her abdomen that she learned the truth.
"The paracentesis testing showed ovarian cancer in my fluid. It was the very end of December when I learned I was facing stage 3 ovarian cancer," Booker-Lemon said. "For the majority of 2019, I didn't know why I was in so much pain. Finally, by the beginning of 2020, I was relieved that I knew what was wrong and immediately went to the Georgia Cancer Center for treatment."
Treating ovarian cancer
Dr. Sharad Ghamande, chair of the Department of Obstetrics and Gynecology at the Medical College of Georgia at Augusta University and associate director for clinical research and trials at the Georgia Cancer Center, immediately began treating Booker-Lemon's advanced ovarian cancer with chemotherapy in January.
"With the combination of surgery and chemotherapy, we can get most patients into remission," Ghamande said. "But when we learned Mrs. Booker-Lemon had ovarian cancer, she also had some health issues, including the recent stroke and she was taking blood thinners. That's why we elected to first give her chemotherapy, which worked really well."
The chemotherapy helped Booker-Lemon get rid of the fluid in her belly and better control her tumors, Ghamande said.
"After three cycles of chemotherapy, we did go ahead and operate to remove the tumors and she is now back on chemo," he said. "She had a really good response to it all and I suspect that when she finishes the chemo and we do our imaging that she's going to be in remission."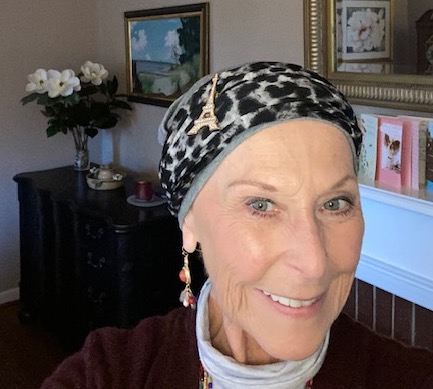 Much like Booker-Lemon's case, it's not uncommon for patients to be ultimately diagnosed with advanced ovarian cancer because there are generally no symptoms for early stages of the cancer, Ghamande said.
"Ovarian cancer is not easy to diagnose early. But as it starts getting in later stages, this cancer spreads to the peritoneal cavity and it mimics a lot of things such as abdominal discomfort and pain," he said. "Also, when you start eating, you get full very easily and experience bloating with a change in appetite. They're very vague symptoms and they can be brushed off or misdiagnosed."
While 75% of ovarian cancer patients receive their diagnosis when the disease is at stage 3 or 4, Ghamande said that about 20 to 25% of the cases are related to a genetic predisposition and can be picked up through genetic testing and a patient's family history.
However, treating late stages of ovarian cancer can be challenging, he said.
"If you look at ovarian cancer in the United States, it is the most lethal gynecological cancer there is in this country," Ghamande said. "We have about 22,000 new cases diagnosed each year and about 13,000 women die every year of ovarian cancer.  Almost two-thirds of the patients that we see come with advanced disease with the cancer spread all over the peritoneal cavity like Mrs. Booker-Lemon."
Physicians at the Georgia Cancer Center focus on getting patients with ovarian cancer into remission and prescribing medication such as PARP inhibitors to help prevent the cancer from returning, he said.
"The longer you are in remission, the better off you are," Ghamande said. "With Mrs. Booker-Lemon, we are working on preventing her disease from coming back, but she's been a trooper. She's back to playing golf and doing chemo after her surgery. She's full of zest for life and has been doing extremely well. She's a special lady."
Providing support
For approximately two decades, Ghamande has been dedicated to making MCG and the Georgia Cancer Center a destination treatment facility for women battling gynecological cancers. In fact, he has helped bring numerous clinical trials to Augusta University and many of these trials are for women who have been failed by standard therapies.
Ghamande is the principal investigator for the Georgia Cancer Center's five-year grant from the National Cancer Institute (NCI) to lead the state's only cancer research program focused on better access to clinical trials and cancer treatments for minority and underserved patients.
The NCI Community Oncology Research Program — Minority Underserved Sites (NCORP-MU) program helps physicians at the cancer center partner with other institutions around the state to increase awareness of, and participation in, NCI-sponsored clinical trials and cancer care delivery research.
"When I came first here, almost 20 years ago, we had no clinical trials," Ghamande said. "So, one of the biggest things that I've done at Augusta University was to start the clinical trial infrastructure. And today, we probably offer more treatment choices for women with gynecological cancers in Augusta than most places in the southeastern United States.
"In fact, nationally, if you look at cooperative group trials for gynecologic cancers, we are the fifth highest enroller for women with gynecological cancers. Therefore, we do the whole gamut from phase I clinical trials, often first in human, and developmental trials with pharmaceutical companies and NCI."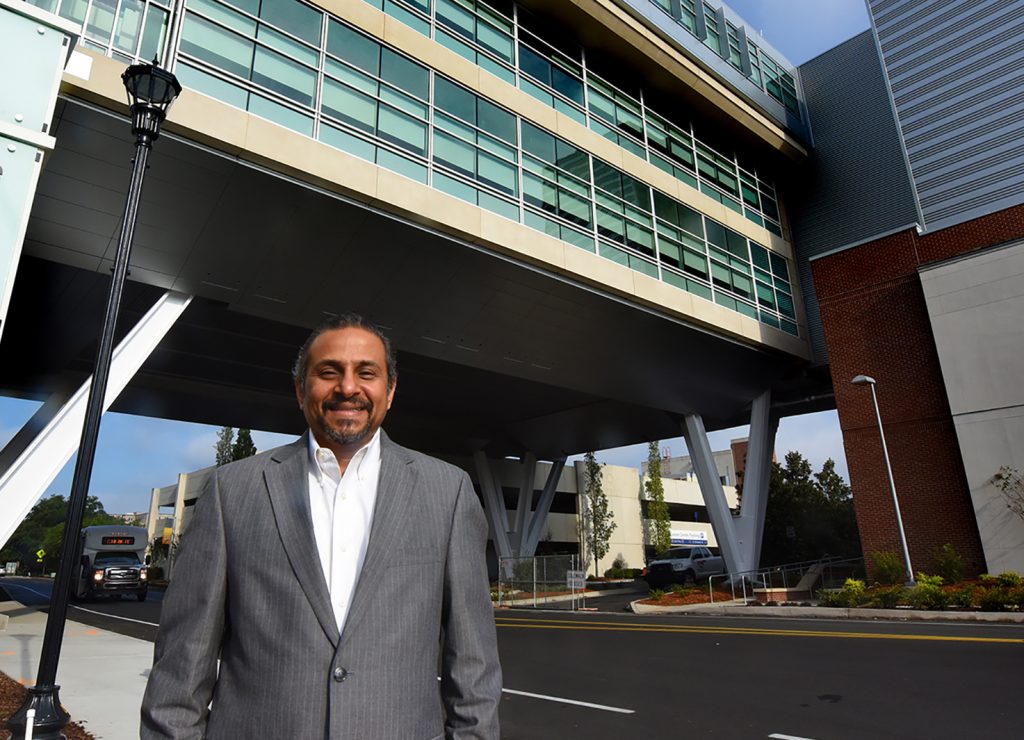 Ghamande is also the founder and president of the CSRA Gynecological Cancer Support Group and serves on the board of The Lydia Project for Women, which provides free support services to women anywhere facing any type of cancer.
Booker-Lemon is a huge supporter of his nonprofit organization, Ghamande said.
"She has raised money for us and she comes for the annual fundraiser we do in November," he said. "She's seen and met some of the remarkable women that we support and, unfortunately, she has now ended up having the same cancer."
September is Ovarian Cancer Awareness Month and, typically, the CSRA Gynecological Cancer Support Group would come together for a spa day to lift patients' spirits, but this event and several others throughout the year had to be canceled due to the COVID-19 pandemic. But the nonprofit is still trying to help patients connect by phone and virtual meetings.
"It's fine for me as a physician to talk to my patients about ovarian cancer, but it's always beneficial for someone like Mrs. Booker-Lemon to have what is called, 'the buddy system,'" Ghamande said. "Through this organization, I can link her up with somebody who has the same disease and the same treatment, so she can actually relate to somebody who's walked the walk that she's walking and that helps alleviate some of the anxiety and the fears that you have when you're dealing with cancer."
Enjoying life
Booker-Lemon is facing her final chemotherapy treatment this week and is determined to remain in remission so she can continue to enjoy spending time with her family, seeing friends, playing golf and working as a Realtor and co-owner of Keller Williams Realty Augusta Partners.
"I try to do everything I can to stay in remission," Booker-Lemon said. "I've just kind of gotten back on the golf course this week. I absolutely love to golf and Dr. Ghamande recently released me to get out and exercise a little bit and I played nine holes today. I've even got a tournament coming up in October that a friend has invited me to play as her guest, so I'm trying to build up my stamina to get ready for the tournament."
After serving as a local Realtor for almost 38 years, Booker-Lemon said she's also not ready to retire any time soon.
"I've done a good bit of real estate work during this year while I've been in treatment," she said, adding that her co-workers have been completely supportive during her chemotherapy. "My theory is, people can be really nice to you if you let them. And I don't know about other people, but I needed to have that sense of relevance. I needed to be relevant and keep working."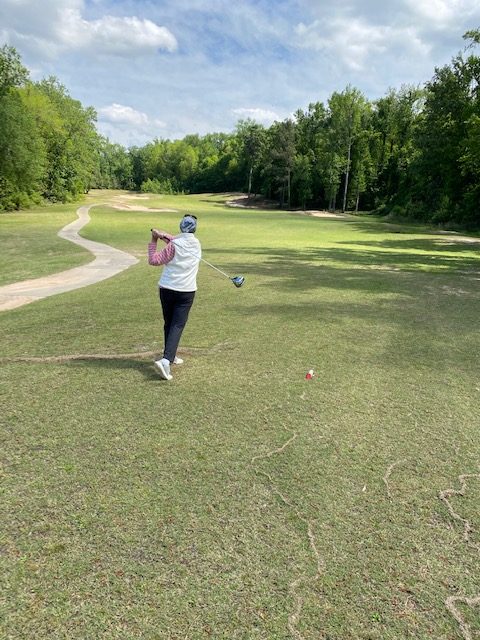 Even after receiving chemotherapy during this coronavirus pandemic, Booker-Lemon said she refuses to remain at home and avoid people.
"I have not just been sitting in this house peeping around the curtains," Booker-Lemon said, laughing. "I refused to do that. It just had a very negative emotional effect on me, so I got out of the house."
At 69, Booker-Lemon realizes she is at a higher risk of contracting COVID-19 because of her cancer and asthma, but she still wants to enjoy her life.
"When I go out, I put my mask on, take my sanitizer and kept my distance," she said. "I was tested prior to my surgery, and I'm COVID-19 negative, so I have been extremely fortunate that when I want to go, I go.
"If people get too close, I simply say, 'I'm in chemotherapy, so please don't be offended that I'm going to step back a little bit.' And people have no problem with that request, whatsoever."
While 2020 has been a challenging year in many regards, Booker-Lemon said she's extremely grateful for the treatment she has received at the Georgia Cancer Center.
"I just love everybody down there. They've been so kind and amazingly helpful to me," she said. "Everybody is so professional and the women in the chemotherapy center are the absolute best. They just can't do enough for you. And there's no one better than Dr. Ghamande. I completely trust him with my life."