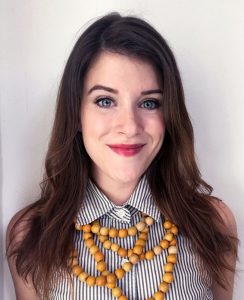 "Material + Method: Exploring Gender Roles through Tradition," a guest-curated exhibition, will open at the Mary S. Byrd Gallery of Art on June 28 and culminate in August with a reception and professional practice workshop for upper-level students and alumni.
The exhibition and its accompanying programs are a part of the Byrd Gallery's Summer Arts Invitational Series.
Guest curator Megan Schaeffer has assembled the works of four female artists – Abby Bullard, Adejoke Tugbiyele, Sonya Young James and Leisa Rich – whose works re-contextualize materials and processes associated with weaving, felting, sewing and printing. These contemporary artists create relevant works that explore gender roles, female identity and expand the definition of art, according to Byrd Gallery Director Shannon Morris.
"Megan is the Art Farm director of Serenbe in Atlanta. This gives her the opportunity to kind of flex that curatorial muscle and bring a different voice into the space," said Morris.
On Thursday, Aug. 23, Schaeffer will discuss the exhibition concept and its artists at 5 p.m. in University Hall. On Aug. 24, Schaeffer will host a program for Department of Art and Design juniors and seniors and recent alumni from 11 a.m. – 1 p.m. Lunch will be served and registration is required.
"This will get them thinking about what they'll do when they leave Augusta University. They'll be free to speak about their needs and aspirations. It's an opportunity to workshop and network," said Morris.
About the exhibition artists:
Abby Bullard: An Atlanta-based artist, Bullard has exhibited in group shows in Georgia, Nebraska, California and France. Her work is also featured in the SGC International permanent collection at the Zuckerman Museum of Art in Kennesaw, Ga.
Adejoke Tugbiyele: An award-winning artist, Tugbiyele was a featured participant in CultureSummit 2017-Abu Dhabi and is a recipient of the 2016 Joan Mitchell Painters and Sculptors Grant.
Sonja Young James: A Tennessee native, James' sculptures utilize animal hair, including sheep wool and horse hair. Currently, she focuses on the duality of form representing opposing sensations and active emotional tensions.
Leisa Rich: Atlanta-based artist Rich creates traditional sculptures and installations. She has works in permanent collections of Delta Airlines, the Dallas Museum of Art, Emory Healthcare and the University of Texas.
The Mary S. Byrd Gallery of Art is located in Washington Hall on the Summerville Campus. For more information, email Shannon Morris.