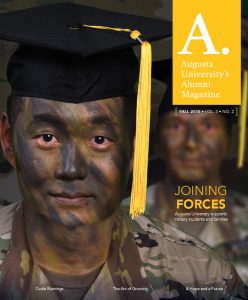 The latest issue of A. is now available, and it's full of stories that get to the heart of what makes Jaguar Nation so special — our history, our connection to the community, our commitment to our students.
It answers the questions that enlighten us … like how the bell tower became a Summerville landmark and the symbol of our university and how the MPA program is shaping lives as well as the places we live.
It brings us the alums who inspire us … like basketball legend Keshun Sherrill and interim chief medical officer Dr. Philip Coule.
It uncovers the surprises that intrigue us … like FDR's connection to the university and our medical illustration program's connection to Curious George.
And it tells the stories that teach us what it means to be a Jaguar … like the unique bond between two TBI survivors or the special relationship we have with our military students and families.
If you're an alum, you should be receiving your copy any day now. If you're not, you can pick up a copy at one of several magazine racks across campus — or check out the magazine site, where you'll find everything that's in the print magazine along with additional web-exclusive content.