Augusta University Libraries announces the hiring of Emily Harris as the university's new cancer and dental medicine librarian. Harris begins Jan. 1.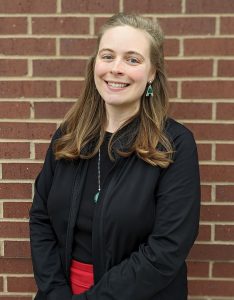 Harris has an established track record of experience in the field of health sciences librarianship. She currently serves as a reference librarian for Lexington County Public Library in Lexington, South Carolina, where she provides reference and instruction services to a diverse population. She develops community programming in collaboration with multiple organizations. Harris' public library service aligns well with Augusta University's community engagement strategic priority. 
In addition, Harris previously worked as a medical librarian for Grandview Medical Center in Birmingham, Alabama, part of Brookwood Baptist Health. Prior to that, she interned with the Brookwood Baptist Health system library staff, working with the collection development, resource management and with assisting library patrons. Harris provided reference services to medical students, residents, physicians, nurses, pharmacists and administration at a 434-bed, level III trauma center. She was responsible for conducting research consultations, maintaining information resources, conducting in-depth literature searches, and managing daily library operations. The experience provided a solid foundation for addressing the information needs critical to health care professionals.
Harris holds a Bachelor of Science in Business Management and a Master of Library and Information Studies from the University of Alabama.