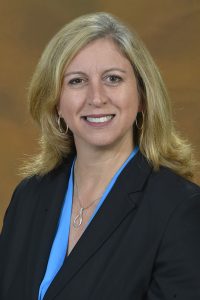 Elizabeth "Beth" Huggins, director of Augusta University First Year Experience, will present on the topic of millennial communication and engagement at the Augusta Metro Chamber of Commerce Women in Business luncheon on Tuesday, June 21.
An expert in engaging and communicating effectively with Millennials, Huggins joined Augusta University in 2000 as an instructor in the university's former Department of Learning Support. Huggins later served as the university's orientation coordinator before taking over as director of First Year Experience in 2013.
In her 16 years at Augusta University, Huggins has taught nearly 2,000 students.
The program begins at 11:30 a.m. at the Legends Club at 2701 Washington Road. Tickets are $30 for current chamber members and $40 for nonmembers, and can be purchased by calling 706-821-1300 or by visiting the Augusta Metro Chamber of Commerce website.
The deadline to register for this event is Friday, June 17.
Visit the Augusta Metro Chamber of Commerce website to register.