As part of Augusta University's contract with dining partner Sodexo, an Einstein Bros. Bagels will open on the Health Sciences Campus and a Sub Connection on Summerville in late spring.
Einstein Bros. Bagels offers fresh baked bagels, breakfast sandwiches, lunch sandwiches, coffee and catering. Einstein will replace the Commons Café in the J. Harold Harrison, MD Education Commons building, which is now closed for the transformation. Sodexo will operate a temporary Starbucks cart in front of the Commons Café during construction.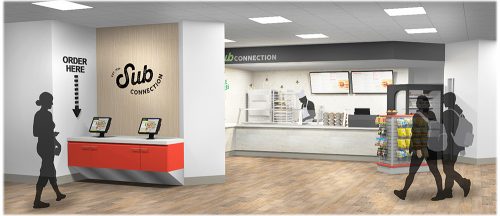 Sub Connection features cold or toasted subs and wraps, prepared to order with high-quality meats and cheeses, fresh produce, and a variety of freshly baked breads. Hearty soups and fresh salads round out the menu. Sub Connection replaces the former Allgood Café in Allgood Hall, which is also closed for remodeling.
The Augusta University Sub Connection franchise will be the first in the nation to feature new branding and order kiosks.
For convenient, alternative dining during the construction phase, options include:
Starbucks, Hissho Sushi, WoW Cafe
7:30 a.m.-3 p.m. Monday-Thursday; 7:30 a.m.-2 p.m. Friday
Slice of Life Pizza
10:30 a.m.-3 p.m. Monday-Thursday; 10:30 a.m.-2 p.m. Friday
Starbucks Cart in Education Commons Lobby
7:30 a.m.-3 p.m. Monday-Friday
For more information, please email Auxiliary Services.