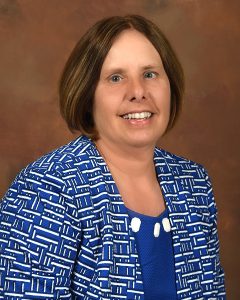 By Sara Carney
Dr. Cathy Dyches has joined the Augusta University College of Nursing as Assistant Dean of the Athens Campus (CONAT). In this role, Dyches will lead faculty, staff, and the community to advance the Athens Campus nursing education programs, research, faculty practice, and community service. She will also represent the College of Nursing by facilitating collaborations with health care partners.
Dyches brings with her 22 years of teaching and academic administrative experience, in which she helped develop an innovative evening-weekend part-time Bachelors of Science in Nursing (BSN) program and a Doctor of Nursing Practice (DNP) program at Brenau University. She has led curriculum revisions and accreditation processes for nursing programs. She has also assisted in developing simulation centers, simulation research, and simulation scenarios for nursing students.
According to Dyches, the position is an exciting opportunity for collaboration and sharing knowledge and experience. "My vision for the CONAT program is to continue to grow and develop three nursing degree programs — the BSN, Master of Science in Nursing Clinical Nurse Leader, and DNP for advanced practice registered nurses — at the Athens campus," she said. "I will work with the CONAT team to help create and carry out the strategic plans and goals of the university. I also plan on developing strong working relationships with all of the clinical agencies."
For Dyches, the position means a return to Augusta University. She received her BSN and Master of Science in Nursing (MSN) from the Medical College of Georgia (part of what is now Augusta University). "It feels like I am coming back to my roots," she said. "The building is where I obtained my MSN. It brings back many memories. I am honored to be associated with Augusta University."
Dyches also holds a PhD in Higher Education from the University of Georgia. She is a Certified Nurse Educator and possesses a certificate in Nursing Informatics from Indiana University.
"We are looking forward to Dr. Dyches' leadership as we anticipate continued growth at CONAT," said Dr. Lucy Marion, Dean of the College of Nursing at Augusta University. "Her experience will provide the right support for several new faculty members, who recently earned doctoral degrees and eagerly await new opportunities and challenges. Her dedication to higher education methods and curriculum development will definitely be welcomed on this robust College of Nursing campus."
"I am extremely excited about this opportunity," Dyches said. "I am grateful to my many faculty, staff members, family, friends, mentors, and experiences that have brought me to this point in my career."