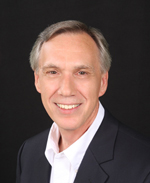 Dr. John E. Hall, Arthur C. Guyton Professor and chair of the department Physiology and Biophysics and director of the Mississippi Center for Obesity Research at the University of Mississippi Medical Center, will present as the 19th Thomas G. Muldoon Lecturer on Thursday, May 12.
Hall's seminar, titled "Mechanisms of Hypertension in Obesity/Metabolic Syndrome: a Growing Challenge to Our Health Care System," will run from 9-10 a.m. in Health Sciences Building Room CA-2109
Hall is an expert in cardiovascular, renal and endocrine physiology. His research interests include obesity and metabolic disorders, cardiovascular and renal disease and the mechanisms of hypertension. To date, Hall has published over 540 research publications and 21 books.
Hall is also the author of the Guyton and Hall Textbook of Medical Physiology.
Now in its 13th edition, the Guyton and Hall Textbook of Medical Physiology is the world's best-selling physiology textbook. Hall has scheduled time to sign copies of his textbook after the seminar for interested students.
The Thomas G. Muldoon Lectureship was established by the Medical College of Georgia's Department of Physiology and Endocrinology in 1990 to honor Dr. Thomas G. Muldoon, a professor in the department until his death in 1989.
Muldoon's internationally acclaimed research of sex hormones and their effects on the body resulted in more than 70 scientific publications throughout his lifetime.