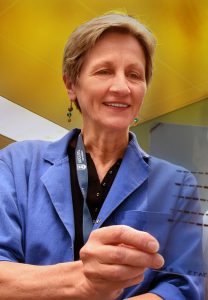 Dr. Ruth B.S. Harris, physiologist and professor in the Department of Physiology at the Medical College of Georgia at Augusta University, is the new president-elect of the international Society for the Study of Ingestive Behavior.
The multidisciplinary society of some 400 scientists works to advance research on food and fluid intake and its associated biological, psychological and social processes.
After her election, Harris assumed the role of president-elect at the society's annual meeting this month in Montreal. She becomes president July 2018. Harris has been a society member since 1991, has served on its Awards and Long-Term Planning committees and was treasurer from 2009-15.
Her research, which is funded by the National Institutes of Health, includes defining precisely how drinking sugar containing drinks induces resistance to the satiety hormone leptin and increases the risk of obesity.
She is on the editorial board of the American Journal of Physiology and the journal Molecular and Cellular Endocrinology. She is a section editor for the journal Physiology and Behavior.
Harris earned an undergraduate degree in food science and physiology and a PhD in physiology from the University of Leeds. She was a professor in the Department of Foods and Nutrition at the University of Georgia before joining the MCG faculty in 2009.