There once was a girl named Joan who was about to eat dinner at home.
Her face was quite glum. I hate milk, she said with a groan.
At eight o'clock in walked her Dad. Drink your milk, Joan, or I will be mad.
Milk keeps your bones strong and will help you live long,
Which will make Mom and Me very glad.

– Excerpt from Joan's Bones
Dr. Cargill Alleyne has published his third book, Joan's Bones, in a series of children's books about the human body. Alleyne, the chair of The Department of Neurosurgery, aims to inspire children to examine careers in science and medicine by providing a closer look at how the body works.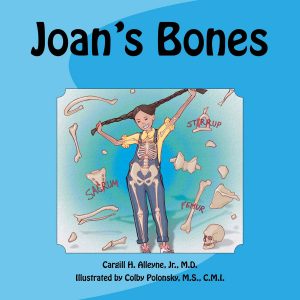 His first book, Ned's Head, published in July 2012, is a light-hearted book of limericks that examines what's inside a little boy's head. A real "brain teaser" in the book is that one of the illustrators, Michael Jensen, an assistant professor in the College of Allied Health Sciences in Medical Illustration at Augusta University, concealed small hidden brains in each of the pictures for readers to find.
Likewise, Colby Polonsky, a medical illustrator in the Augusta University Neurosurgery Department, has concealed a small heart in every illustration she created for Bart's Heart, which was Alleyne's second book in the series, published in 2015. Polonsky, a graduate of the College of Allied Health Sciences, also illustrated Joan's Bones, hiding a small winking bone in the detail of each illustration for readers to find.
In addition to the sing-song facts throughout each book, there is a glossary with definitions and pronunciations of associated medical terms. Designing the books to be interactive is something Alleyne hopes will make the publications attractive to readers in the 7-13 age range.
"I want to encourage young kids to think about science, and this is a fun, unique way to do it," said Alleyne, who has co-authored several neurosurgery textbooks and has been named to America's Top Doctors list by Castle Connolly – the top 1 percent in the nation – for more than a decade.
Bart's Heart was recognized in the 2015 Royal Dragonfly Book Awards, and Ned's Head received an honorable mention in the 2012 awards.
Later installments in the works are Nelly's Belly and Malachi's Eye, and all three books in the series published so far are available for purchase on Amazon.